The Rouen Campus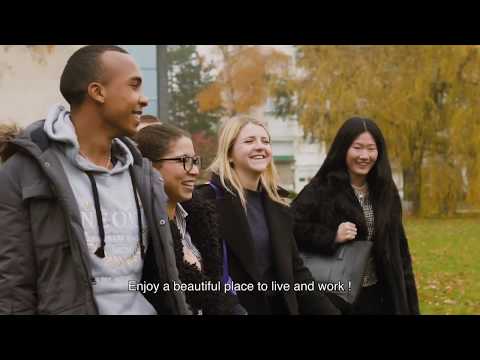 The NEOMA Business School Rouen campus is a very special 7-hectare location surrounded by woods.
The campus is equipped with state of the art teaching equipment such as trading room, student society offices, multi-media library, student life areas.
An environment offering innovative learning can be accessed on and off campus: e-learning platform, remote access to the school's databases and documentary material (e-books, electronic periodicals, specialised databases, etc.).
Library
Whether you're looking for information on a company, market research, an academic article, book or simply somewhere to work, the library is open from Monday to Saturday.
Close to the city centre and major transport routes
10 min from Rouen city centre by bus
15 min from the railway station by bus
1 hr 15 from Paris by train or car
1 hr from the Normandy coast by train or car
A lively place to meet people, discuss and debate
Our campus is an exceptional space where thousands of students and teachers from an enormous range of backgrounds meet and socialize every day. It holds various events open to the public – conferences, debates, seminars – contributing to the NEOMA Business School's intellectual reputation and to the region's cultural activities.
LIFE IN ROUEN: BE PART OF THE 'SEINE'!
Living and studying in Rouen means living in a city with a rich history and heritage but resolutely focused on the future. Between the river and the hills, tucked into a bend in the River Seine, Rouen enjoys an exceptional natural environment. A modern city that is reclaiming its river, docks and maritime identity, Rouen is open to the whole world and is well-established as a major European city.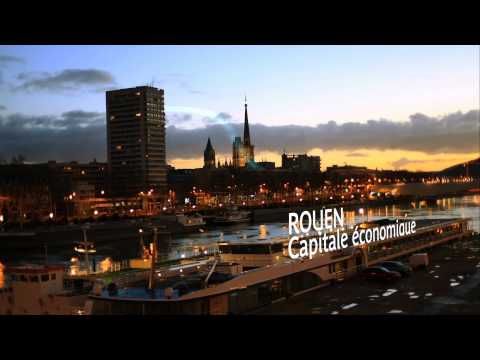 Rouen, a city of art and history
With the label "city of art and history," and the capital of Normandy, Rouen the 'city of a 100 spires' attract tourists from the world over. The city is associated with Joan of Arc, Corneille, Hugo, Flaubert, Maupassant, Monet, Lichtenstein, and Duchamp, who all showed their enthusiasm for the city.
A school rooted in its region
Rouen is a city of 400,000 inhabitants, located at the centre of the Le Havre-Rouen-Paris trunk route, the true "economic heart" of the region and a dynamic metropolitan area. Urban and economic development, the renewal of the docks and the river front, and the transformation of industrial estates into service, commercial, and leisure areas, these are some of the many projects that make Rouen attractive to all…
A rich cultural life
Rouen enjoys a busy cultural, festive, sports and student life. There are many opportunities to meet up to share an exciting time out in the city. Exhibitions, concerts, festivals, shows, theatre, opera, libraries, trade fairs, world and popular music, contemporary dance, cafes, bars… there is something for everyone in the city. Rouen also makes the news every 4 years when it hosts the "Armada de la Liberté". 40 or so sailing and warships as well as 6 million visitors fill the Rouen waterfront with colour and excitement.
Let's not forget that Honfleur and Deauville are less than an hour away from Rouen, and that, the D-Day landing beaches, Mont-Saint-Michel, etc., are only a little further on.
All the city's attractions can be found in the Rouen guide, produced by students from NEOMA BS since 1997, Le Viking www.le-viking.com.
Visit the city of Rouen website: www.rouen.fr
Visit the website for the Rouen Normandy metropolitan area: www.metropole-rouen-normandie.fr
Accommodation in Rouen
EATING ON CAMPUS
The campus has a self-service cafeteria and a snack/fast-food area.
If you prefer to eat off-campus, check out the handy Le Viking guide to Rouen: www.le-viking.com.
Location and access
1 Rue du Maréchal Juin, 76130 Mont-Saint-Aignan
By train:
Direct trains from Paris Saint-Lazare to Rouen central station (1 hr 15).
The Rouen railway station is 20 minutes from the campus.
By bus:
Route F2: towards La Vatine MONT-SAINT-AIGNAN / Parc de la Vatine. Stop: La Varenne
Route 8: towards Longs Vallons or Ecole Moulin N.-D.-DE-BONDEVILLE. Stop: Business School
Route 40: towards La Varenne MONT-SAINT-AIGNAN. Stop: La Varenne
Route 43: towards Place du Vivier HOUPPEVILLE. Stop: La Varenne
By TEOR:
Route T1: towards Mont aux Malades MONT-SAINT-AIGNAN. Stop: Place Colbert
>> See the ASTUCE network website