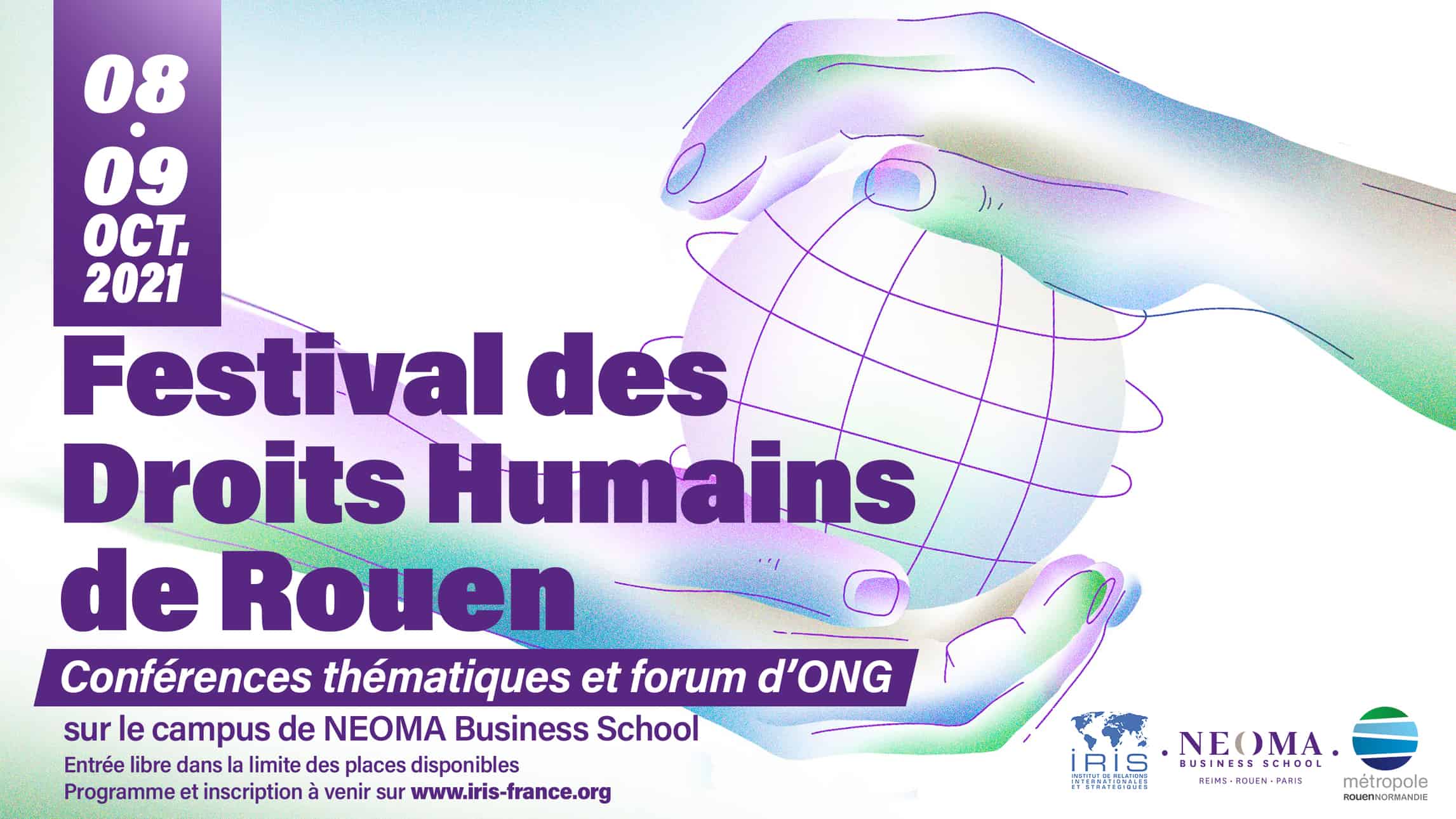 First Rouen Human Rights Festival from 8-9 October, 2021
Published on 28 June 2021 by NEOMA
NEOMA, IRIS and the Rouen Normandy Metropole are to launch the very first Rouen Human Rights Festival. The event is open to the general public and features four thematic round table discussions on a range of Human Rights issues and challenges.
The Festival is to be held on the Rouen Campus and feature experts (researchers, professors, civil society personalities, journalists, NGO representatives, renowned international solidarity activists…) debating with the audience on a variety of themes such as moral diplomacy, the link between culture and human rights, health as a global public good.
As Pascal Boniface, Director of the Institute for International and Strategic Relations, explains, "IRIS is particularly pleased to be involved in the organisation of this new public meeting, which serves to  inform and stimulate reflection on basic human rights issues. They certainly both deserve the attention of intellectuals and the public at large. The aim of this first edition is to allow for open and fair debate on issues that are essential to making the world go round with input from experts and the general public."
 The first Rouen Human Rights Festival is part of the partnership between IRIS and NEOMA.
"As a major Business School, our mission involves encouraging public debate and contributing to the formation of a rich and constructive vision of each individual's place in society and in business," explains Delphine Manceau. "Therefore, in a global world, questions on the respect for human rights and individual freedoms are important subjects and we are happy to organise and host this Festival and further reflection on these themes."
 Rouen Normandy Metropole is the event's 3rd partner. "The Rouen Normandy Metropole welcomes and supports this initiative taken by NEOMA and IRIS, which will naturally be integrated into the « Rouen- Métropole, Capitale du Monde d'Après » event (Rouen-Metropole, new World Capital) and provide a new space for discussion and exchange for all," say Nicolas Mayer-Rossignol, Metropole President and Mayor of Rouen, Mélanie Boulanger, Metropole Vice-President in charge of youth, student life, higher education and research, and Adrien Naizet, Metropole Councillor and Deputy Mayor in charge of youth. "Through the quality of its speakers and the diversity of its themes, this Festival highlights the involvement of our major higher education institutions in the life of the City!"
 Full details and registration to come: www.iris-france.org
An initiative that is part of the partnership between IRIS and NEOMA
"The Covid-19 crisis, the American presidential elections, the rise of China, the potential European revival are all factors that show how external events can have immediate repercussions within our borders. Having a background in geopolitics is no longer a choice, it is a necessity," explains Pascal Boniface, IRIS Director. As such, IRIS Sup', the School of the Institute of International and Strategic Relations (IRIS) and NEOMA Business School signed a global partnership last March. This agreement features a number of special geopolitical and management related courses and joint events for students, including the Rouen Human Rights Festival.
Ranked among the world's top think tanks on foreign policy and international affairs, IRIS is the only think tank in France that links a research centre and a School directly.