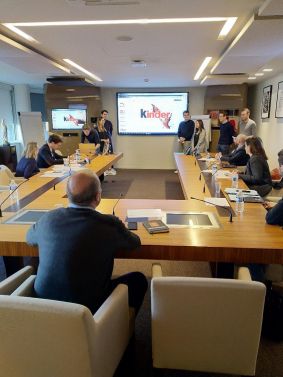 NEOMA and Ferrero France launch a new Teaching Chair, "Next Leaders with Ferrero
Published on 14 May 2020 by NEOMA
The 3-year Teaching Chair aims to develop innovative approaches to teaching and stands out as a new and original partnership between the academic and professional worlds.
The launch of the "Next Leaders with Ferrero" Chair by NEOMA and Ferrero marks a new milestone in what has been a long-standing partnership that brings together the academic and food-industry sectors.  The idea behind the initiative is to help France's leader in the confectionery market achieve its goals concerning innovation and recruitment, whilst  providing the School with an excellent testing ground for its teaching activities. It is also a perfect illustration of the role and commitment both institutions have towards the region.
 Co-creation and co-development in 3 areas
The three-year Chair offers a new collaborative context between the two organisations. "We are delighted with this new partnership, which will foster a wide range of original approaches to and innovative teaching methods for the benefit of our students and their understanding of tomorrow's  leadership. We will be invited to attend a number of activities run by the company's managers running a both inside and outside the classroom," Delphine Manceau explains. "Such an experience will add real value to the students' learning curve, bearing in mind that Ferrero produces some of the food industry's most recognisable brands"
"Next Leaders with Ferrero" is built around 3 important dimensions:
The "Deep Dive in Leadership" experiential teaching method made available for final-year MiM students: a highly immersive experience whereby a student shadows a member of the Ferrero France Management Committee over a two-day period. The idea is for students to become totally immersed in the life of a member of the Comex to develop a real understanding and a critical appreciation of a manager's true role. This also allows for exchange between  students and managers on the latest management styles and associated values. 52 NEOMA students and a number of Ferrero France Board members have already taken part in the project this year.
Course teaching material with 3 "Business cases" for Master in Management students:
1st year: the "Nutella Biscuit" case, a multi-disciplinary case study combining Marketing, Accounting and Law
2nd year: the 'Kinder' case, focusing on the development of a strategic communication campaign for the brand, in anticipation of the launch of a Kinder Cards product and involving 128 Marketing, Brand & Business development students
3rd year: a Ferrero-Leclerc strategic case study on Industry and Retail management relations in the Biscuit category, with the objective of identifying and assessing the different approaches to industrial-distribution sector relations and business negotiations.
Permanent contact between Ferrero France employees and students through a variety of themed lectures given by Ferrero France directors and managers to MiM students (Industrial Strategies, Supply Chain, Marketing, Innovation, etc.), recruitment forums and career fairs.
"We are fully committed to fostering a partnership that brings about mutual benefits. As such, we have chosen to develop a  working relationship that provides a wealth of immediate benefits for students, whilst taking care to address the challenges Ferrero France is facing today and bearing the brand's innovative nature in mind," adds Jean-Baptiste Santoul, Chairman and CEO of Ferrero France. "Moreover, the long-standing partnership we enjoy makes NEOMA the ideal choice for this collaboration with the higher education sector." As a reminder, Jean-Baptiste Santoul, is a PGE 1992 graduate, and the patron of the class of 2021.
A long-standing partnership based on shared regional anchoring
With the Italian company's French headquarters based in Normandy, the two organisations have a long-standing relationship in the region. "Beyond NEOMA's academic excellence, which goes without saying, the regional connection involved in this partnership particularly appeals to us," adds Jean-Baptiste Santoul. "Territorial anchoring is essential for our school. Working with such a renowned company both worldwide and regionally is fully in line with our strategy," concludes Delphine Manceau.