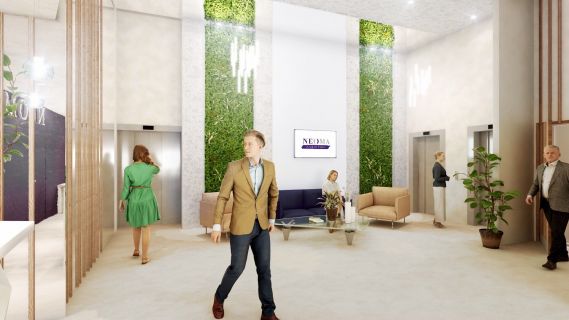 NEOMA Business School unveils its future Paris campus
Published on 27 January 2020 by NEOMA
Planned for the start of the 2021 academic year, NEOMA Business School's future Paris campus will be located in the heart of the Butte aux Cailles district, in the 13th arrondissement. It will be one of the School's growth drivers and will fully embody the educational and digital transformation to which it is committed. With an investment of around €80 million, this new intramural campus will have a surface area of more than 6,500m2 and will have a capacity of 1,500 students and offer a wide range of programmes, from post-baccalaureate to Executive Education.
A new site to support the School's development
The opening of this new campus is in line with NEOMA's current ambition to become the innovative challenger of the largest international business schools. This ambitious project will serve the School's development objectives by enabling us to broaden our Parisian offer, particularly for baccalaureate holders from the region and international students, and to provide a growth lever for our Reims and Rouen campuses", explains Michel-Edouard Leclerc, President of NEOMA Business School.
With the first school year scheduled for September 2021, the future site will replace the current campus in the 9th arrondissement and will accommodate 1500 students. It will offer an expanded range of training: post-bac programmes, the deployment of which in Paris was initiated in 2019, Specialised Masters and Masters of Science as well as the Executive MBA and continuing education activities. The Master in Management programme will remain exclusively offered on the Rouen and Reims campuses.
A campus designed to serve the learning of tomorrow
New learning codes, new relationships with information and technology… The design of this new Paris campus takes full account of the expectations of students born between Google and Facebook. "We are faced with a new generation with its curiosity, its appetite for entrepreneurship, its openness to the world and its new learning codes", explains Delphine Manceau, Managing Director of NEOMA Business School, "Faced with this observation, we have imagined this new campus as a connected and modular place, favouring tomorrow's learning, innovation and networking.
Completely adapted to the teaching methods of the 21st century, this new campus will be equipped with state-of-the-art educational material: touch screens, interactive terminals, simultaneous multi-media video projection, etc. To encourage interaction with the Reims and Rouen campuses, it will also include live broadcasting equipment. "Since the start of this real estate project, we have seen the construction of this campus as a unique opportunity to continue our dynamic around digital technology and innovation.
The project, by developer Eiffage immobilier, will provide more than 20 classrooms and an auditorium, all of which will be modular in real time, coworking spaces, an exhibition space as well as creativity rooms, educational playgrounds to foster the emergence of new ideas. With an unobstructed view of the whole of Paris, the project has a surface area of more than 6,500m2, spread over 5 levels.
Open to the entire NEOMA community, the new site will include spaces reserved for the Alumni Association and the Paris branch of the Conficius Institute. An incubator dedicated to young entrepreneurs will be integrated into the building.
At the same time, in line with their strong commitment to CSR, NEOMA and Eiffage Immobilier are favouring construction that respects environmental issues and are aiming for the HQE label. Materials that promote high thermal and acoustic quality have been selected to make this new campus a place that combines high technology and energy efficiency.
*High Environmental Quality