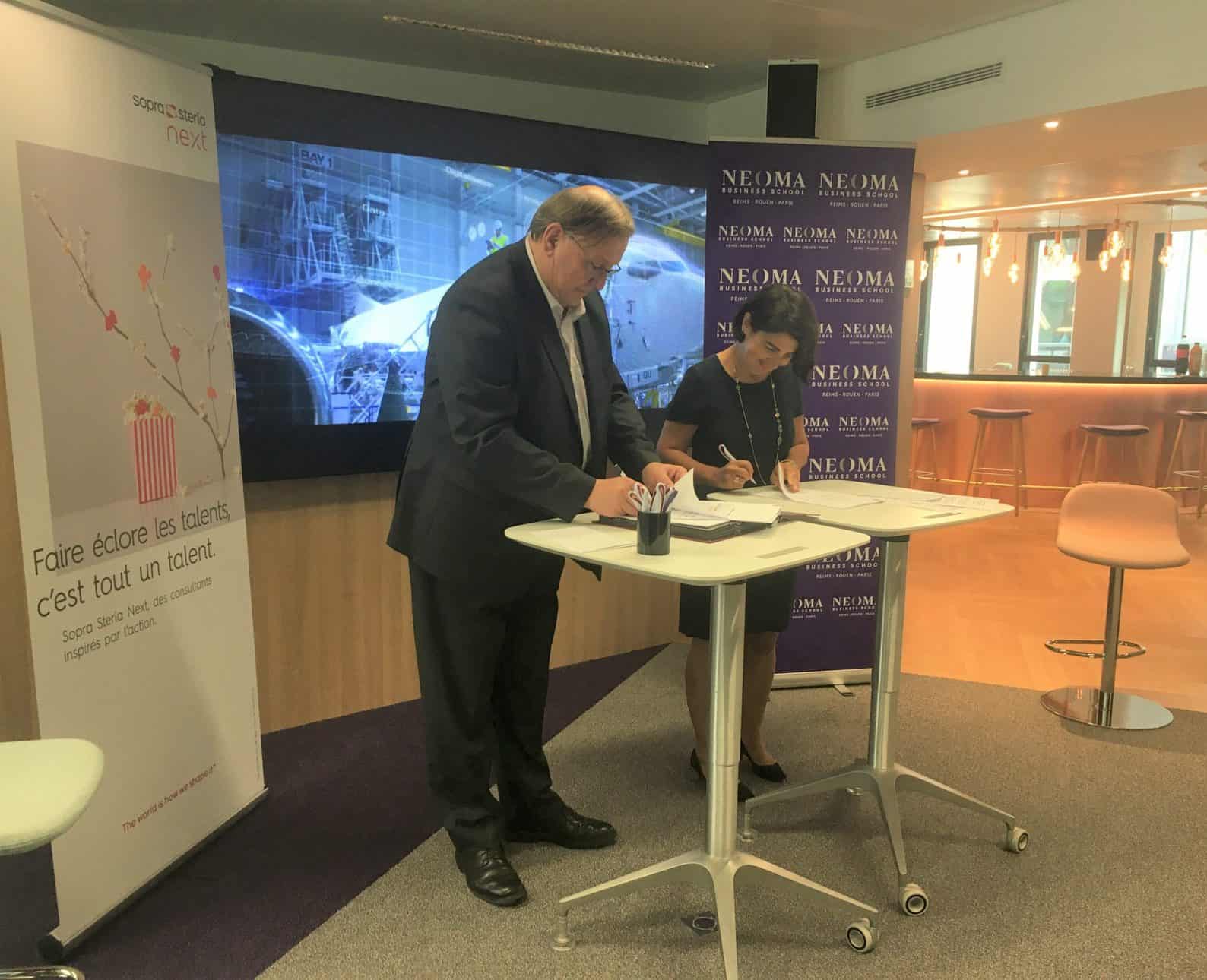 Sopra Steria Next and NEOMA strengthen their partnership and collaboration in the development of digital pedagogy
Published on 10 July 2020 by NEOMA
NEOMA and Sopra Steria Next have signed an innovative pedagogy and research partnership. The company has also become the TEMA programme's official partner, based on a shared commitment to innovation and digital technology.
On Friday 10 July, Delphine Manceau and Jean-Claude Lamoureux, Executive Director with Sopra Steria Next, a leader in consulting services for the digital transformation of companies and organisations, signed an  innovative pedagogy and research partnership agreement to foster the School's development. "NEOMA is fully committed to creating the school of tomorrow, through the development of our pedagogy and research production," says Delphine Manceau. "We are proud to have the support of such a visionary company as Sopra Steria Next, with whom we share common values concerning innovation and excellence and a strong commitment to digital transformation."
Increased interaction with students
In exchange, NEOMA will provide Sopra Steria Next with support in its challenge to develop new professional talent. "Companies are currently facing an increased number of challenges, particularly in the recruitment of future leaders who are ready to drive their development, now more than ever," points out Jean-Claude Lamoureux. "NEOMA students are the kind of future managers capable of shaping the professional world in the future," he continues.
Sopra Steria Next's professional consultants will also provide the programmes with specialised knowledge, particularly through a series of conferences on the changes digital technology such as innovation management, AI, blockchain and big data, are imposing on organisations. "The experience and lessons from our consultants will help strengthen the appeal of the sector and allow students to discover some of its specific features and challenges," adds Jean-Claude Lamoureux.
Sopra Steria Next becomes TEMA's official partner
 This enhanced collaboration also means that Sopra Steria Next is to become an official partner of the TEMA programme. "TEMA prepares agile and creative managers for the digital age, who are capable of creating start-ups and also supporting organisations facing major digital changes. The areas of convergence between the two organisations are therefore obvious," explains Anne-Laure Herard, Programme Director.
"From our first contacts, the relationship with Sopra Steria Next has been of high quality. We stayed in regular contact during the lockdown period and despite the exceptional circumstances, we managed to establish a relationship of trust that we both want to establish over time,"  concludes Aline Armataffet, Head of Partnerships & Corporate Relations.