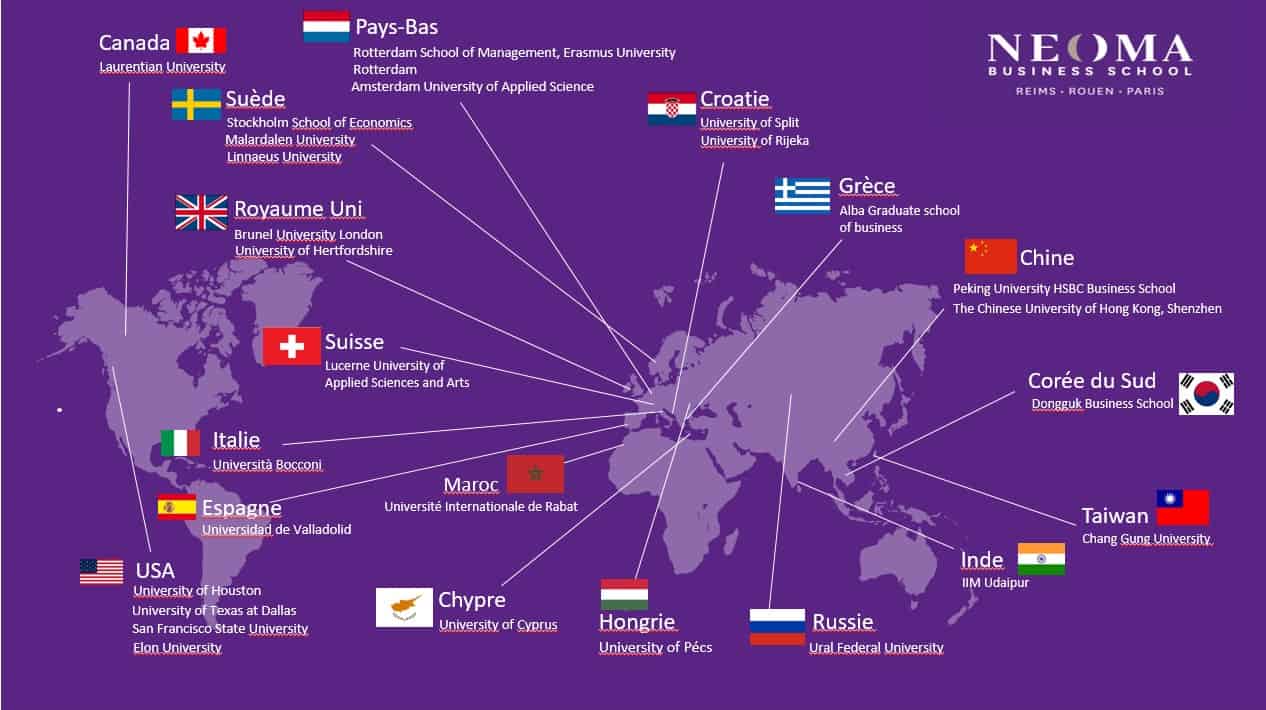 Università Bocconi, University of Houston … NEOMA announces its outstanding partners for the 2021 academic year
Published on 18 June 2021 by NEOMA
At international level, NEOMA Business School has always taken an immersive position, preferring for small groups of its students to travel to recognised academic partners all over the world. Now the School is continuing to develop its network internationally with the arrival of several prestigious institutions. These renowned new partners – including the famous universities of Bocconi and Houston – will help offer students an excellent international experience from the academic year of 2021.
Università Bocconi and University of Houston are joining the NEOMA network
"Our international development strategy is both distinctive and very strong: it involves relying on partnerships with top-level institutions to provide exchanges for small groups of students who enjoy a true local immersive experience, both academically and culturally, explains Céline Davesne, Associate Dean for Programmes and International Affairs at NEOMA Business School.
These include the Università Bocconi. Based in Milan, this institution of excellence specialises in economic sciences, finance, political sciences, management, public administration and law. It is triple accredited (AACSB, EQUIS & AMBA), has a Master in Management and appears in the world Top 10 (Financial Times 2020). "Bocconi is often spoken of as the Italian equivalent to the HEC because this university is a training ground for the country's elite and represents one of the intellectual centres of the country, endowed by eminent professors", emphasises Céline Davesne.
The University of Houston, based in Texas and now considered one of the best universities in the United States, is also joining the academic network of NEOMA, thereby broadening the School's offer in North America. Its faculty made up of award-winning professors, its innovative research centres and multicultural student population as well as its alumni network are all attractive assets for students at NEOMA.
"We are extremely proud to welcome these two recognised institutions to our network, as they share the same academic rigour, the same values and the same vision of the immersive experience as NEOMA Business School," states Céline Davesne.
Asia, Europe, the Americas… a considerable strengthening of the world-wide network
After the signing of 4 new exchange agreements in Asia announced last spring, together with the new partnerships with the Università Bocconi and the University of Houston, the School is continuing to roll out its network across the world.
NEOMA will therefore be welcoming several recognised institutions into its network from the start of the next academic year, including:
Rotterdam School of Management, Erasmus University Rotterdam based in the Netherlands (AACSB, AMBA, EQUIS)
San Francisco State University, in the US (AACSB)
Stockholm School of Economics, in Sweden (EQUIS)
University of Texas at Dallas, in the US (AACSB)
​The University of Chile, a Chilean institution in the Shanghai classification
"By becoming a partner of NEOMA, Bocconi is following the example of St Gallen University, Imperial College and Instituto de Empresa", emphasises Sophie Gay, Associate Dean for Programmes & International Affairs at NEOMA Business School. "We offer our students a very wide range of international destinations, now with 360 partners based in over 56 countries. Whatever the student's specialism or preferred area of the world, we can now meet each student's preferences, with an exceptional academic and cultural experience into the bargain."
| | | | |
| --- | --- | --- | --- |
| Continent | Country | City | Partner institution |
| Asia Pacific | South Korea | Seoul | Dongguk Business School – Dongguk University |
| Europe | UK | London | Brunel University London |
| North America | USA | Dallas | University of Texas at Dallas |
| North America | USA | Elon | |
| Asia Pacific | India | Udaipur | IIM Udaipur |
| North America | USA | San Francisco | San Francisco State University |
| Europe | Sweden | Stockholm | Stockholm School of Economics |
| Asia Pacific | China | Beijing | Peking University HSBC Business School |
| Europe | Spain | Valladolid | Universidad de Valladolid |
| Asia Pacific | China | Shenzhen | The Chinese University of Hong Kong, Shenzhen |
| Europe | Slovakia | Bratislava | University of Economics |
| Europe | Sweden | Västerås | Malardalen University |
| Europe | Sweden | Växjö | Linnaeus University |
| North America | Canada | Sudbury | Laurentian University |
| Europe | Netherlands | Rotterdam | Rotterdam School of Management, Erasmus University Rotterdam (Netherlands) |
| Europe | Greece | Athens | Alba Graduate School of Business |
| Europe | Netherlands | Amsterdam | Amsterdam University of Applied Science |
| Europe | Hungary | Pécs | University of Pécs |
| Africa | Morocco | Rabat | Université Internationale de Rabat |
| Europe | Switzerland | Lucerne | Lucerne University of Applied Sciences and Arts |
| Europe | Italy | Milan | Università Bocconi (Italy) |
| Europe | Croatia | Split | University of Split |
| Europe | UK | Hatfield | |
| Europe | Croatia | Rijeka | University of Rijeka |
| North America | USA | Houston | University of Houston |
| Europe | Cyprus | Nicosia | University of Cyprus |
| Europe | Russia | Ekaterinburg | Ural Federal University |
| Asia Pacific | Taiwan | Taoyuan City | Chang Gung University |