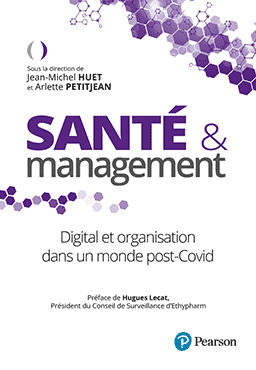 Workplace healthcare: NEOMA Alumni and NEOMA Business School identify new management challenges in the healthcare sector
Published on 05 July 2021 by NEOMA
NEOMA Alumni and professors from the NEOMA Business School continue their pioneering collaboration with the co-publishing of the eleventh book of their collection, released by Pearson publishing company. Focused on healthcare management, this latest book analyses the new challenges arising in the realm of healthcare as well as its main players.
 Crises: powerful catalysts for change
Crises accelerate growing changes and drive forward new practices and benchmarks that would normally take years to materialise. The healthcare crisis that we've been living through for nearly two years will leave indelible marks on our society with the healthcare sector too feeling its effects. In order to identify the future challenges that the main players in the healthcare sector will have to confront, NEOMA Alumni and NEOMA Business School have co-published a book that looks exclusively at healthcare management. "With our publisher Pearson, we started to put together this book in mid 2019 because we thought that the issues between healthcare and management were strategic. Then the Covid-19 crisis arose and with perfect timing, this book stands as the quintessence of what can be written about the topic," Jean-Michel Huet said. He is co-editor of the book, a NEOMA Business School graduate and a partner at the BearingPoint management consulting company.
Rethinking the management of healthcare organisations through the digital transformation
The book is divided into two parts. The first section deals with innovation and digital transformation challenges in the healthcare sector, ranging from telemedicine to the development of InsurTech where start-ups seek to bring about a disruption in insurance services by integrating technological developments. The application of these digital technologies has opened the path to numerous possibilities, thereby calling into question the place and organisation of institutional healthcare actors.
The second part focuses more specifically on workplace healthcare in all of its different aspects. Healthcare has become a strategic concern in the professional world. At a time when performance and a certain individualism is being sought out, and one that sees an increase in telecommuting and a rising demand for social connections, we must think about the period after the crisis and create new work conditions that will allow employees to come back together and optimise their involvement in their company's projects. It's a new paradigm that company directors and managers must adapt to so they can move from safeguarding the health of their employees to developing greater employee well-being and improving the quality of work life.
This eleventh book, co-written by NEOMA Alumni and NEOMA Business School, is a guide where the co-authors offer a two-tiered review of practical company problems.
This book is edited by:
Jean-Michel Huet: A partner at the BearingPoint management consulting company, he assists governments and telecom and energy operators in their strategic and digital transformation. A graduate of NEOMA Business School and Sciences Po Paris, he is a member of the NEOMA Alumni executive board (which he presided over for 15 years) as well as a member of the NEOMA Business School executive board.
Arlette Petitjean: She has worked in hospital markets in France and around the world in the healthcare industry. As a consultant, she has co-constructed a new offer in open innovation while expanding and implementing development and marketing strategies in cooperation with companies, patients and healthcare workers. She teaches these subjects at business, engineering and continuing education schools. She is also one of the organisers of the NEOMA Alumni Healthcare Club.
The co-authors are:  
Caroline André | Associate professor of Law in the Accounting, Control & Legal Affairs department at NEOMA Business School
Sonia Boussaguet | Associate professor in the Strategy & Entrepreneurship department at NEOMA Business School
Dr Bruno Boyer | President of the public health section of the French National Medical Council
Sébastien Casareto | Manager, innovations in healthcare solutions department
Tina Donadieu | Coach for entrepreneurial transition
Raphael Durand | Director, Chang Evolution
Florence Guiliani |Assistant professor in the Entrepreneurship department at the management school of Sherbrooke University, Montréal, Canada
Jean-Michel Huet | Partner at BearingPoint
Catherine Karyotis | Head of the Advanced Masters in International Financial Analysis and the Objectif Manager programme in the Finance department at NEOMA Business School
Anne-Sophie Le Bonniec | Accounts manager and healthcare solutions specialist at OctopizeReso
Laetitia Lethielleux | Director of the Social Economy and Solidarity Chair at Reims University, Champagne-Ardenne
Emilie Mercadal | Resourcing strategy and optimization business lead at GSK
Emmanuel Paty | Director, Axis Mundi
Arlette Petitjean | Consultant in the healthcare sector
Charlène Sessegolo | Senior consultant at Colombus Consulting
Yvan Sessegolo | Technico-economics expert for Bpifrance in the ICT sector
Florence Tantin | Honorary hospital director
Maryline Thenot |Professor and researcher and member of the Bioeconomy chair in the Finance department of NEOMA Business School
Audrey Weinert | Sales representative Doctolib
Publisher: Pearson, "Management in actions" collection
Price: €26
ISBN: 978-2-3260-0284-5
313 pages