Sustainable Finance Conference May 2022
NEOMA Business School organises its first Conference on Sustainable Finance, to be held on the Paris campus on May 20, 2022.
The Conference aims to share the current state-of-the-art in the understanding of sustainable finance.
The sustainable finance market has experienced exponential growth, reaching USD 2.3 trillion of sustainable debt outstanding at the end of September 2021 with USD 779 billion only in the first three quarters of 2021. Such explosion raises a lot of challenges and concerns regarding their real impact on the financial system and more broadly on our society, while our understanding is still far from enough.
Also, with the recently experienced disruptions of environmental, social and governance changes, financial markets have been subject to both the pressure to adapt to these changes, and the need to act on them for the future. This has reflected itself in the significant growth of sustainable securities and encouraging sustainable practices, with the common goal of doing well by doing good.
The NEOMA Conference on Sustainable Finance 2022 is an excellent opportunity to bring together renowned academics, in order to build a constructive dialogue on the relationship between ESG practices, issues and challenges, and how finance meets these aspects.
Organising Committee
Jung-Hyun Ahn (NEOMA Business School)
Sara Ain Tommar (NEOMA Business School)
Messaoud Chibane (NEOMA Business School)
Xiaoxiong Hu (NEOMA Business School)
Hong Zhao (NEOMA Business School)
Scientific Committee
Eser Arisoy (NEOMA Business School)
Sean Cao (Georgia State University)
Xin Chang (Nanyang Technology University)
Gilbert Cette (NEOMA Business School)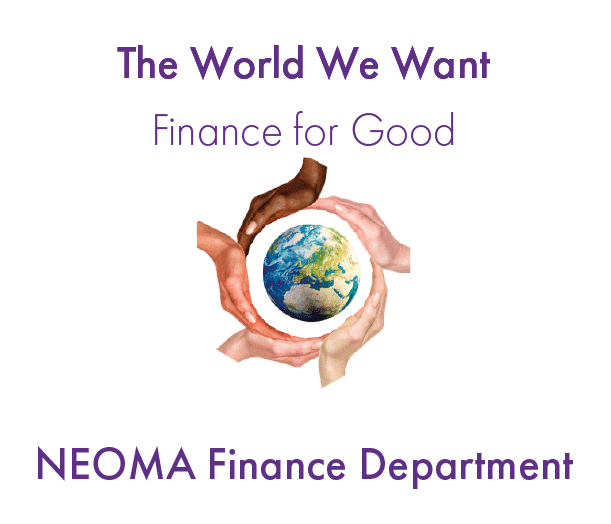 The conference is organised by
Finance for Good sub-area of the World We Want Area of Excellence
and the Finance Department