Digital transformation
Executive Education
Global executive MBA
The digital transformation that has been taking place for several decades impacts a business at all levels, to the point that the integration of new technologies has become a strategic issue. This transformation requires an in-depth rethinking of organisational models, collaboration methods, forms of management, customer relationships, etc. Successful digital transformation is essential in order to make the right strategic choices and therefore remain competitive.
What are the main phases of digital transformation? How to anticipate its impact on the professions? What are the opportunities offered by this digital revolution? How can managers lead this transformation?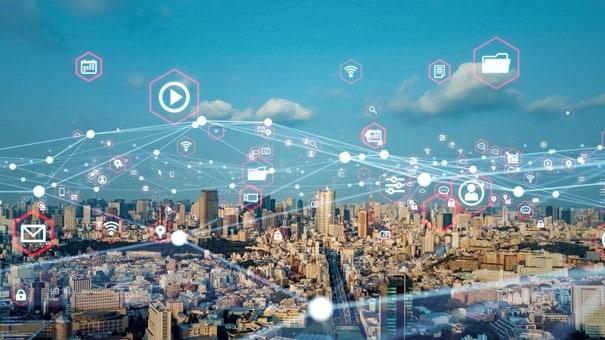 Digital transformation: a definition
"Digital transformation", "digitalisation", "digitisation": all these terms refer to the integration of digital technologies within companies (making it possible to automate and dematerialize many tasks thanks to new tools). These technologies are integrated both in organisations and in activities, with a view to improving business performance. If digital transformation is initially a matter of technologies and innovations, it obviously impacts the strategic, organisational and human aspects of companies.
What are the main phases of digital transformation?
The digital transformation of companies is marked by several key periods:
early 1980s: popularization of the personal computer and development of office automation;
around the year 2000: Internet explosion within companies, arrival of high-speed internet;
2010s: emergence of social networks, democratization of smartphones and mobile browsing, growth of e-commerce, development of cloud storage, etc.
the current world, now marked by big data, artificial intelligence, virtual reality…
Impact on professions and the automation of tasks
The use of new technologies and the automation of tasks have a definite impact on job roles. Some will have to transform, while others will be created, and certain skills will be more and more in demand.
The most easily automated jobs are those carried out at the level of support functions: accounting, customer service, human resources, buying… these so-called "routine" and automatable jobs will tend to become scarce.
Emergence of new skills in data analysis
The employees in these sectors therefore may find it beneficial to enrich their skills by training in digital competences in their field, data analysis and interpretation (via vocational executive education), because competences in financial analysis, predictive analysis, measurement of the added value, value chain evaluation within companies will be particularly required. The relevant use of data will require great analytical and interpretation capacities, a "heightened awareness", a "multiple intelligence" that only a human can deploy. The ability to think analytically and demonstrate soft skills will be valued.
Digital technologies and opportunities for business
What are the major technologies today that are transforming the business world and building the economy of the future? Focus in on some essential digital technologies for business.
Big data and data analytics: data is now integrated into the decision-making processes of companies, even in the most complex organisations. The challenge is to be able to manage all this data effectively, to make it a source of value, to structure it and to use it to better manage risks and capture opportunities.
Blockchain: this data storage and transmission technology is decentralized and secure thanks to cryptographic mechanisms; the possibilities of using blockchain in business are immense (industry, logistics, human resources, banking, etc.) and present real advantages in terms of process reliability and security.
Artificial intelligence (AI): now present at all levels of the company (logistics, customer relations, human resources, finance, etc.), AI draws on the mass of data available to provide predictive analysis and contextual answers…
IoT (Internet of Things): The explosion of the Internet of Things is revolutionizing consumers' lives and working habits, offering better connectivity between people and their devices; the Internet of Things represents enormous growth potential for companies, provided they are uncompromising in securing objects and data flows.
Virtual reality and immersive technology: these allow people to be immersed in a digital universe, either in reproductions of the real world, or in a totally imaginary world; on the business side, the diversity of fields of application (marketing, risk prevention, training, etc.) offers real gains in terms of performance.
Robotics and automation: Closely combined through RPA (Robotic Process Automation), these two areas offer opportunities in terms of performance and efficiency of operations, at all levels of organisations.
Digital transformation and Covid-19: accelerated digitisation
In 2020, the Covid-19 pandemic pushed companies to achieve a project that they had initiated and that would have taken several years to complete, in the space of a few months or even a few weeks. The acceleration of digitisation enabled them to maintain a good level of activity and to reinvent the customer relationship.
From an organisational point of view, the enormous use of working from home required the implementation (when it was not already in place) of certain tools within the employee's work environment: cloud storage, video conferencing tools, virtual office…
Moving towards a new managerial profile to accompany the digital transformation?
Digital transformation is no longer an option, it is an imperative. If the strategies are established and validated, there remains a major challenge: finding new manager profiles who can be relied on to implement these changes. Achieving digital transformation for a company requires overhauling the entire organisation; it should not be imposed, but a team effort. It can be a source of uncertainty for some and requires more agile management, a less vertical management style, which encourages autonomy and responsibility, with a view to good appropriation by employees. The issue of digital transformation is not only technological: the quality of support for change matters as much (or even more) than technologies.
A double transformation: digital and sustainable
Is digital transformation enough to withstand today's complex and uncertain world? There's one major issue left to integrate: the transition to a sustainable development model. The Covid-19 health crisis has shown that companies that carry out these two transformations together are the ones that will do the best.
 According to an Accenture study published in January 2021, companies leading this dual transformation (digital and sustainable) generate more than 10% of their turnover by promoting "economic models focused on sustainability, supported by technology and relying on ecosystems".
Neoma BS and digital transformation
Three teams ensure the digital transformation of the School. The digitisation projects are ambitious: experimentation and innovation, support for services, job functions and professions, development of innovative pedagogy, management of school infrastructure, etc.
As a Business School, the goal of Neoma BS is not only to understand innovation, but to create it in order to provide an innovative and stimulating learning experience to its students.