Executive Master of Business Administration (EMBA)
Executive Education
Formations
Global executive MBA
The Executive Master of Business Administration (Executive MBA or EMBA) is an international graduate programme in business administration and management. This is an excellent training programme provided by a top tier Business School.
The Executive MBA is designed for senior executives wishing to undergo a professional transformation to invigorate and boost their careers, in particular internationally, with a view to accessing top management positions.
What are the requirements to access this excellent training, how to finance an EMBA, what is the content of the training, who can access it, what impact can one expect on their career after having completed an Executive MBA…? All you need to know about the EMBA in 10 key points.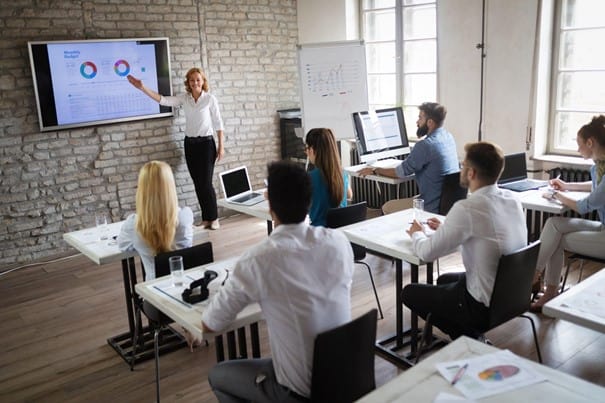 The Executive MBA, a career accelerator
This diploma is aimed at executives who already have solid professional experience and who wish to boost their career: improve their performance, gain more responsibilities, consolidate their managerial skills, learn to manage change (digital transformation of companies, in particular), develop a transversal vision of the company, promote a culture of innovation within their organisation, etc.
Investing in Executive Education develops your professional network, helps you to question practices… all of these are key elements to give your career fresh momentum.
Testimonial from Dalila TARDY, Administrative and Financial Director & Materials Management Control for Western Europe at CEMEX France, co-coordinator of the Global EMBA Alumni Club network of graduates (EMBA 2011 graduate): "In addition to the knowledge to meet the 'challenges', I have acquired a perspective that allows me to see things differently in my professional and my personal life."
Crossover of objectives: strengthening skills and searching for meaning
Beyond the purely managerial aspect, the Executive MBA gives pride of place to soft skills, questions of leadership, emotional intelligence, ethics and personal development. It helps participants take a step back from their careers, question their practices and support them in their need for change. Taking an EMBA helps participants answer the question "How can I make my career more meaningful?".
The rise of environmental issues, the impact of digital transformation on the business world – and on society more generally -, the health crisis of the Covid-19 pandemic has raised ethical questions for many leaders. The EMBA is a tool for pursuing these reflections, providing initial answers and transferring them into the business world.
Target audience: experienced executives with high potential
What are the prerequisites for taking an EMBA? This diploma is not intended for students, but complements the training of leaders with high potential and who already have several years of significant experience (generally at least ten years) in fields such as finance, industry, banking sector, consulting…
The EMBA "part time": an adapted rhythm
The schedule of the training programme – part-time – allows participants to continue working while following an EMBA. An ideal formula for people who do not necessarily have the time to free themselves completely to follow a full-time training programme. The courses and seminars combine both face-to-face and remote sessions. EMBA programmes have a strong international dimension and generally include travel abroad.
Admission criteria: analytical skills, managerial status, professional development plan
To be accepted onto an Executive MBA, candidates must prepare an admission file in order to obtain an interview. The schools then analyse the different profiles and opt for the candidates most compatible with the spirit of the EMBA: excellent analytical skills, strong appetite for teamwork, reflections on managerial position…
The candidate must also present a solid professional project specifying the career development envisaged after the EMBA. Obtaining this diploma must be part of a coherent and relevant professional and personal journey.
Content of an EMBA: work on strategic functions, mindset, digital transformation
The Executive MBA is a long course, which requires a strong personal investment, and its objective is to scan across all the strategic functions of the company in order to improve the performance of all participants.
The EMBA improves these key skills:
expertise on the company's strategic functions: finance, marketing, management, human resources, international business, etc.
reflection on mindset: work on the managerial style and soft skills thanks to the experiences of the various participants and stakeholders;
the acquisition of new practices in terms of digital and data transformation.
A collective adventure made up of practical implementation and sharing of experiences
The EMBA places great emphasis on practice and the sharing of experiences. The participants – from various countries and backgrounds – are encouraged to conduct in-depth discussions on the questions encountered within their organisations: management of complex and strategic projects, case studies, scenarios based on real issues, etc.
Personalised coaching sessions are also offered. They offer participants tailor-made support to reflect on their journey and outline the development they aspire to.
 Testimony of Valérie STIVAL , Director of Transformation at Xerox France, participant of the EMBA course at NEOMA BS (EMBA 2019 graduate): "I am driven by my ability to lead my teams on projects that are meaningful. To do this, you often have to put yourself in danger without hesitation and go out of you comfort zone […] The NEOMA EMBA addresses themes that overlap with very current concerns, and I have, in almost real-time, used everything I learned there. "
How to finance an EMBA? Multiple sources and schemes
A diploma of excellence, the EMBA is one of the courses that requires a significant financial effort, but the quality of the programme lives up to the investment. So certain candidates make the choice to invest personally in this training – partially or fully -, others call upon various sources to finance their EMBA .
The CPF (Personal Training Account) "Professional Transition Project" (formerly CIF) is one of the levers most requested by candidates to finance this training. Employers can also pay for part of the training when it is part of the employee's career development, for example with a view to promotion or when the employee has just taken up a managerial position. Travel and accommodation costs are also to be expected, generally covered by the company. It is up to candidates to know how to sell their professional development project and  convince their employer  .
Some schools offer scholarships or even partnerships with banks so students can benefit from loans at 0 or very low interest rates. In certain cases (redundancy, for example), the use of the Contract of Professional Security (CSP) may be considered.
There are many sources to draw on, and some schemes can even be combined. The ideal is to anticipate these costs as much as possible and submit your application as soon as possible in order to be able to explore the various possible sources of funding, with perseverance and determination.
What professional development should you consider with an EMBA?
The Executive MBA is a powerful lever for obtaining positions of high responsibility (and better paid), accessing strategic positions within companies or carrying out professional retraining. Certain participants plan for example to launch into entrepreneurship after their Executive MBA. The training also allows you to diversify and expand your professional network, especially internationally.
International recognition
This diploma benefits from worldwide recognition and therefore makes it possible to envisage an international career. Holders of an Executive MBA are well placed to join French companies operating abroad or even large international companies: investment banks, prestigious consulting companies, etc.
 EMBA, a demanding human experience
Strengthening and diversifying one's skills, developing a strategic vision, establishing one's managerial skills… it's much more than a diploma, the Executive MBA represents a demanding human experience, an invitation to transform, both professionally and personally.