Virtual campus
Training institutions – and Business School's in particular – are undergoing a technological evolution by accelerating their digital transformation. Some schools have even gone so far as to set up a new learning environment in the service of an innovative pedagogy: the "virtual campus" or "digital campus", 100% digital and accessible remotely. Beyond the purely technological aspect, the virtual campus is a small revolution in the world of higher education, since it opens the way to new methods of teaching and pedagogy, and prepares learners for the latest trends in the organisation of future businesses.
Virtual campus: a definition
The development of digital campuses was born from this observation: video conferencing platforms alone cannot provide optimal distance learning. The need goes far beyond that. It is not a question of transposing online courses that normally take place in person, but of offering students a new educational experience. The virtual campus manages to combine digital and physical educational approaches, at the crossroads of distance and face-to-face.
The first complete virtual campus in Europe is that of  Neoma Business School , developed with Laval Virtual and opened in September 2020. An ambitious project, this persistent virtual campus project fits   into the school's digital transformation strategy . The Covid-19 health crisis accelerated its implementation and validated the dynamism of Neoma Business School to carry out virtual reality and augmented reality projects.
How does a virtual campus work?
The virtual campus is a digital space accessible online. Users must download an application that acts as an access portal. It is not necessary to have a virtual reality headset or specific computer hardware. An up-to-date and fairly recent computer is sufficient, with headset and microphone.
The digital campus allows students and teachers to evolve in this digital place (meeting spaces, offices, auditorium, etc.) as if they were on a physical campus (living spaces are also available: relaxation areas, football…). The digital campus (made up of several buildings) is accessible 7 days a week and 24 hours a day and can accommodate all students.
Collaborative work, interactions and fluidity
After connecting to the virtual campus, students can take courses, attend conferences or join working groups. As for the professors, they present their course via dedicated tools and can interact with the students. Large events can also be organised there such as ceremonies and press conferences…
Students and professors circulate on the digital campus via their avatars which they can personalise. A box is displayed above each avatar to indicate the name of the individual represented, and sometimes their function. The avatars move and speak using the keys on the keyboard. Collaborative work and exchanges are preserved and even increased thanks to the proximity, spontaneity and fluidity between the various stakeholders (students, teachers, school teams).
Immersive technology
Users of the digital campus live an immersive experience thanks to their avatar and a clean and realistic design. The digital campus can bring together students and teachers physically located at different sites. Frequent gestures become possible: opening the door to your classroom, sitting down, raising your hand, applauding (therefore sharing emotions), talking to a group of people or to a single person, exchanging notes… a realism that promotes the appropriation of the platform by its users.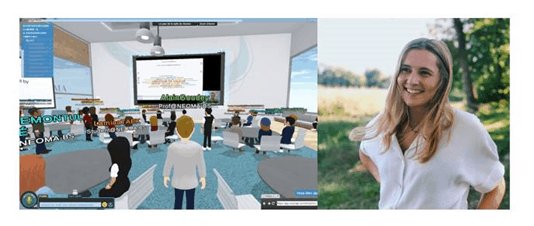 Virtual campus and cognitive psychology
The persistent campus appeals to the principles of embodied cognition and extended self (contributions of cognitive psychology), since it allows individuals to be embodied in the virtual world thanks to their avatar. By embodying their learning, the participant benefits from a stimulating effect on their attention and memorisation.
Innovative pedagogy, new forms of learning
The installation of a virtual campus is not only one technological performance. An implementation of this kind also helps create new forms of learning and collaboration. The format of the courses and the teaching methods must be reinvented. Whereas the tools for video conferencing allow for little or no spontaneity and generate enormous fatigue, the virtual campus supports proximity, meetings, natural exchanges and small group work.
Virtual campus: what do the users think?  
What does one feel by trying out this virtual world and these new teaching methods? Very close to a physical campus, students describe the digital campus as "stimulating", and less passive than traditional video conferencing tools, which is "better for concentration" and has a "sense of presence".
Virtual campus and the "Future of Work"
A new approach is emerging in the field of higher education. At NEOMA BS, the implementation of the virtual campus is more broadly part of a study looking for the answers to business challenges. As part of its research activities, NEOMA BS has developed multidisciplinary Poles of Excellence. One of them, entitled  "The Future of Work" , seeks to understand the transformation of the world of work in a global and transversal way.  In this context, the virtual campus is a large-scale exploration of the digital workplace.