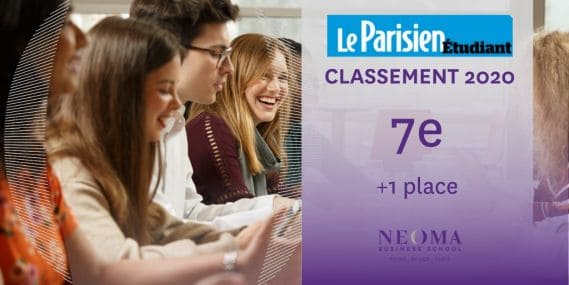 2020 Business School rankings in the Le Parisien: 7th-place tie for NEOMA
Le Parisien published its rankings today of the best business schools and put the NEOMA Masters in Management Programme in a tie for 7th place. This is an increase of 1 place for the school, jumping up 3 places in 2 years.


In the general ranking, NEOMA made advances in the following criteria:
• Labels: + 1 point (5/5)
• International network: + 2 points (5/5)
• Pedagogy: + 1 point (4/5)
• Social policy: + 2 points (5/5)

These advances show the successful implementation of the school's strategic plan: AMBA accreditation for the MiM, global expansion of our partner-university network, ambitious grant policy, etc.

In the subject rankings, NEOMA has stood out mainly in:
• the international dimension of its faculty: 3rd place
• Entrepreneurship: 3rd place

Le Parisien also published a piece on the school for the start of the school year and an interview with Isabelle Chevalier on Peer Learning.



"NEOMA Business School has finished the 2019/2020 year successfully in the rankings since the school improved or consolidated its positions in all the rankings this year" Delphine Manceau, NEOMA school dean, said "It took 7th place twice and 6th place once, confirming its positioning as a challenger to the best business schools".

NEOMA in the 2019-2020 rankings in French publications (Masters in Management)
L'Etudiant: 7th place (=)
Le Figaro: 8th place (+2 places)
Challenges: 6th place (+1 place)
Le Point: 8th place (=)
Le Parisien: 7th place (+1 place)