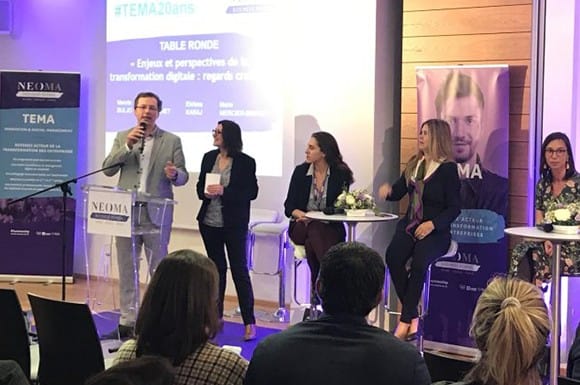 On the 28th of March, 2019, TEMA celebrated its 20 years on the Paris campus of NEOMA Business School. Several generations of graduates came for an evening event honouring TEMA. Along with shared memories and friendly discussions, there were also several inspiring speeches given on the subject of the digital transformation.

"This anniversary event is one of the special moments of collective unity that brings together all of the programme's alumni. It was both a happy and emotional time. It was an opportunity to show the programme's expansion and its numerous recent developments. It also provided the chance to highlight the richness and diversity of the career paths of the TEMA alumni, who have the great privilege to find themselves at the centre of the major innovation and transformations challenges that companies are confronting," Anne-Laure Herard, director of the TEMA programme, said.
All of the people who were part of the programme travelled to come celebrate its 20-year anniversary. Among them were the two former directors of the programme, Patrice de Fournas and Marie-Laure Massue, who today is the director of the Learning Lab.
After an introduction from Delphine Manceau, the school's dean, Merete Bulio, director of customer experience and digital transformation at Natixis EuroTitres and founder and president of Do Tank Digital Ladies & Allies, talked about digital transformation. Merete Bulio is currently listed in the Top 10 of influential CDOs in France (MakeMeStats 2019) and was ranked 92 in the list of Women To Follow Who Are Disrupting Tech in France (Forbes 2018). During the evening event, she shared her point of view on digital transformation with her talk focusing on how digital transformation is a transmutation for customer services.
Anne-Laure Herard and Alain Goudey, digital transformation director at the school, then chaired a round table that included several digital transformation experts. Merete Bulio and three TEMA graduates shared their different views:
Elise Bruchet, TEMA 2003 graduate, Head of Digital culture & collaboration and Employee Engagement Project Director at Faurecia, recipient of the Digital Award at the Trophées NEOMA Alumni Awards (2019)
Marie Mercier-Briand, TEMA 2003 graduate, Head of Digital Experience & Innovation at La Redoute
Eleïssa Karaj, TEMA 2016 graduate, digital transformation manager at August Debouzy
An all-woman, multi-sectorial round table had an enriching discussion on the subject. Lastly, to close the event, all of the alumni mingled with one another during a cocktail reception. And for a touch of the fantastic and nostalgic, they had the chance to express their creativity by referencing the programme on a creativity board especially set up for their use. They were also able to look at class photos and old programme brochures, from the first brochure created in 1999 to the one put out in 2018.