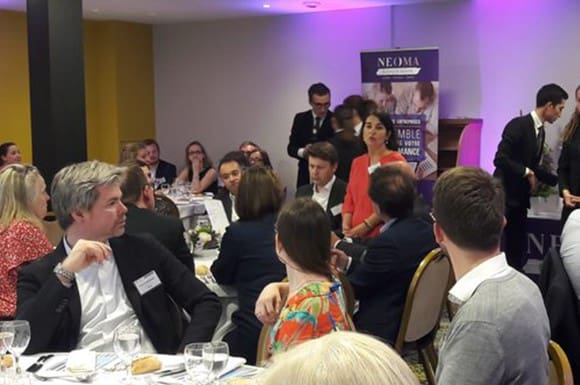 A dinner to exchange with partners on corporate relations opportunities
On Tuesday May 21, NEOMA Business School held a dinner to thank its business partners and to listen to propositions from potential new partners. The perfect opportunity to enhance corporate relations and, in particular, areas for research through the centres of expertise.

A grand dinner was held for 22 partner companies and 21 prospective companies by NEOMA BS at the VATEL Hotel School restaurant in the centre of Paris. Guests included many NEOMA BS graduates who now hold senior positions in a range of national companies. The objective of the evening's event was to discuss potential business partnerships with the School in an informal and friendly atmosphere. The opportunity to showcase the NEOMA BS corporate relations portfolio.
The evening was marked by a series of talks. In her introductory speech, Delphine MANCEAU spoke about the NEOMA BS 2022 strategic plan and explained the School's major objectives in detail, particularly on an international level. Jacky LINTIGNAT, President of NEOMA Foundation, then spoke about the role of its organization. "One of our most important objectives is to recruit the best students, regardless of their resources. We fully defend and believe in this concept". Finally, to round off the introductory speeches, Jean-Baptiste SANTOUL, President of Ferrero and the School's Alumni, spoke about the benefits a company-school relationship can generate. The patron of the new Master in Management class highlighted transversal cases and research projects in particular.
The discussions that followed focused on ideas for research. After a short introduction by Sandrine HENNERON, Associate Dean for Faculty and Research, who took the opportunity to present the School's centres of expertise, the School's professors made a presentation of their research topics.

• Haiyan Zhang and Philippe de Lombaerde presented the Europe-Asia centre
• Imen Mejri and Messaoud Chibane, the Fintech centre
• Anna Colovic and Frédéric Nlemvo the Entrepreneurship and Innovative eco-systems centre

A highly rewarding event in terms of potential future partnerships.