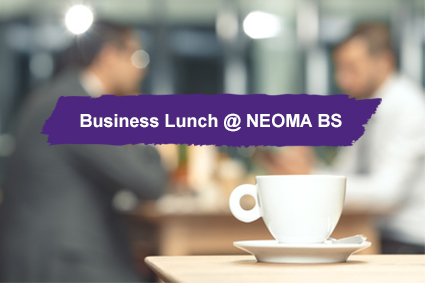 A new meeting with the businesses in our regions: NEOMA BS Business Lunches
A new event format conceived by the Corporate Relations Department in the model of NEOMAtinées, the Business Lunches are set up to invite local economic decision makers to come share with us their businesses practices and challenges. What are the key skills are they seeking out for their organisations? What are the new emerging professions, and in what growing sectors and markets can the school provide support?

Invited by Denis Gallot to the Rouen campus and by Pascal Choquet to the Reims campus, many different company executives and business managers are planning to participate in one of the business lunches organised between September and November.
The first of these lunches was held on September 18 in Rouen with seven executives from SMEs and large groups: Nexira, Abysse Corp, Matmut, Bouygues Construction, Cap Seine, Assurances Le Conservateur and BNP Paribas. Nearly two hours of talks were held where they discussed company recruitment needs, the job and career expectations of young professionals and the student missions proposed to companies.
Whether it was new participants or favoured partners, all the executives seemed satisfied by these meetings, and a dozen people have already signed up for the coming business lunches on two campuses!
Contacts: Pauline Maltret, Caroline Quesnay