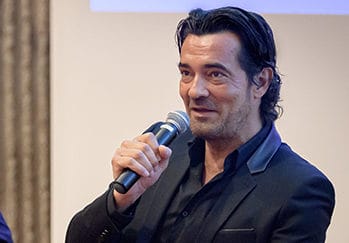 "Achievement is not incompatible with respect and humility"
Thierry Guibert, CEO of the Maus Frères group (Lacoste, Gant, Aigle, Tecnifibre, The Kooples), an alumnus from the Class of '96 Masters in Management programme at NEOMA and president of NEOMA Alumni, was invited to a conference on the Reims campus focusing on the Humanities and CSR. Introduced by Michel-Edouard Leclerc, president of NEOMA, and Delphine Manceau, NEOMA school dean, Thierry Guibert participated in a round of questions prepared by students from the NEORATEUR and ENACTUS student associations, which co-organised the event.

To what extent is CSR a performance lever for the companies that you manage?
Thierry Guibert: For several years now, the consumer has asked for initiatives that demonstrate the social responsibility of companies. CSR can represent a non-performance lever if we do not respect the duty of transparency with regards to the customers. In this sense, we assessed our factories and imposed standards. We opted for strong commitments. Therefore, we chose not to work with certain countries that do not meet our standards.
Also, we do not apply our CSR strategy lightly. On the contrary, we have anchored it to the very mission of the brand. For example, since Lacoste is a transgenerational brand, we have focused on this societal aspect. Aigle is more associated with nature and the outdoors, so there we have focused on concepts linked to sustainable development.
Do you think that social entrepreneurship can be a real answer to the needs and demands of our society?
Thierry Guibert: We mustn't forget that we are in a capitalist environment. From the moment you find a profitable formula for social entrepreneurship, it could work. I admire the younger generations that put these challenges at the centre of their aspirations. I think that this way of innovating is the future because new economic models are currently being thought up and worked out.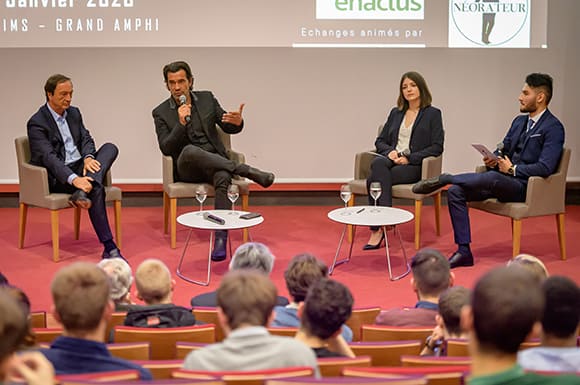 Lacoste is an iconic French brand. Is its future going to be in France or abroad?
Thierry Guibert: The brand is 86 years old, but the company is young with only 6 years in existence. 5 years ago when I took my position there, we defined a premiumisation strategy that sought to strengthen the brand's desireability while controlling its distribution through offering products that our customers highly valued. Lacoste's economic model is very strong because our activity does not depend on one country, rather it is split up by 10 to 15% between many other countries including France. The future priority is the Chinese market, which today accounts for 8% of the revenue, but we have a goal of 20% within 3 to 5 years.
But to create jobs and preserve the environment, shouldn't more focus be placed on the local economy? Maybe under a new, different form?
Thierry Guibert: For the company's fabrics, we managed to keep a local production. When I took over as managing director 5 years ago, I needed 40 hosiers to perform the knitting activities for production in France. There weren't enough training programmes or schools for that profession, thus there weren't enough professional hosiers. We thus created the Lacoste Manufacturing Academy in 2016 to train our hosiers and knitters. We preferred to invest in training rather than outsourcing. This brand new initiative was a social action since the applicants had diverse profiles both as job seekers and as those looking to develop new skills. We were able to offer professionalization contracts. Our responsibility was also to preserve and pass on this French skill that is widely recognised throughout the world.
Do you have any advice for students?
Thierry Guibert: I have three pieces of advice for you while you are studying. First, you should work on and learn the subjects that interest you the least. Fundamental skills are essential for your career. I leaned more towards sales, so I chose to study finance to improve upon my weak points. It was the right choice! As the financial auditor at Kering (ex PPR), I assisted in its distribution transformation towards the luxury sector. Groups want to see this agility and this ability to overcome challenges.
Next, speaking fluent English is an absolute must. Years before it was not a discriminating factor, today it is.
And last, I would say that you should use your time studying to become more open to people and the world around you. Your career also depends on being able to talk to anyone.
Later, during your career, keep in mind that achievement is not incompatible with respect and humility. When I started working with executives, I took advantage of the situation to listen to them a lot, take pointers from what the managing director said and did, a person who could switch easily from the small details to the bigger picture. Another thing that is very important is to make sense and have a clear vision. Teams will follow you because they want to, because they understand where you want to go and what you expect.





THE CYCLE OF HUMANITIES CONFERENCES
This cycle of conferences, chaired by Michel-Edouard Leclerc, began in January 2019. It was the second part of a larger pedagogic strategy, with the first part being a fundamental course focused on the humanities and offered to all of the first-year students in the Masters in Management programme and included the subjects of sociology, psychology, ethnography, economics… The theme of the course for this year is money and is analysed from different angles. Additionally, the goal of the conferences is to make students reflect on the social utility of companies and on the role that they themselves will play in society as future executives and managers.
In 2019, the school hosted Emmanuel Faber, CEO of Danone, Louis Gallois, President of the oversight board for PSA Peugeot Citroën, Jean-Paul Agon, CEO of l'Oréal, and Thomas Gomart, director of The French Institute of International Relations (IFRI). Michel-Edouard Leclerc has also held a position as the managing director of a company.
For the first quarter of 2020, following Thierry Guibert, managing director of Maus Frères (brands including Lacoste, Gant, Aigle, Tecnifibre, The Kooples), NEOMA will host Jean-François Julliard, managing director of Greenpeace France, Jean-Baptiste Santoul, managing director of Ferrero France, Henri Giscard d'Estaing, CEO of Club Med, and Rony Brauman, former president of Doctors Without Borders.