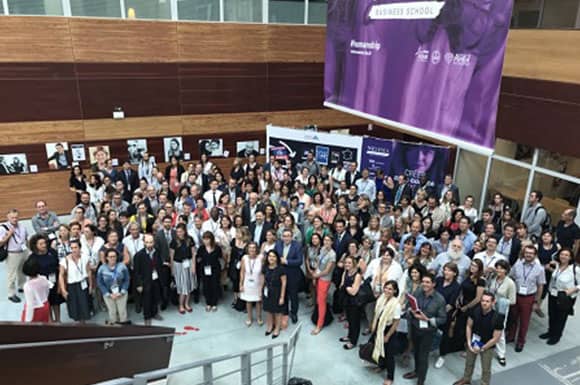 All committed to enhancing attractiveness with Campus France!
On July 10th and 11th, NEOMA BS Reims was honoured to host the Campus France International Development Seminar. The opportunity to welcome one of the major contributors to national mobility and to establish stronger contact with French higher education Heads.

s an extension to the Campus France and the Franco-Taiwanese Forums, this year the International Development Seminar was held on our Reims Campus. A major event in the school year for those involved in mobility in the higher education sector. 200 participants were expected this year.
Making a speech and making contact
After a word of welcome from Delphine MANCEAU, the seminar was organised into 3 main events.
First of all, Campus France presented an update of key figures for international mobility and above all, an image barometer describing the appeal of France to foreign students. The opportunity to confirm the appeal of France, the first non-English-speaking host country. From a survey of 325,000 foreign students in France, 9 out of 10 recommended France as a study destination and 88% displayed satisfaction with the quality of teaching.
Second highlight, a series of themed workshops held on the NEOMA BS Reims campus. Céline Davesne, NEOMA BS Associate Dean for Programmes, chaired one of the round tables on the theme of "Institution Alliances as an International Strategy". Isabelle Chevalier, Talent & Career Director, shared her experience on the theme "Capitalising on the Alumni network to strengthen the institution's international image".
Finally, lunch was held between the Dean's office of the School and Campus France. Both share the ambition to continue working to improve the appeal of France on an international level, and the aim to pursue cooperation and collaboration between the two parties.
>learn more about NEOMA Business Schhol international relations policy