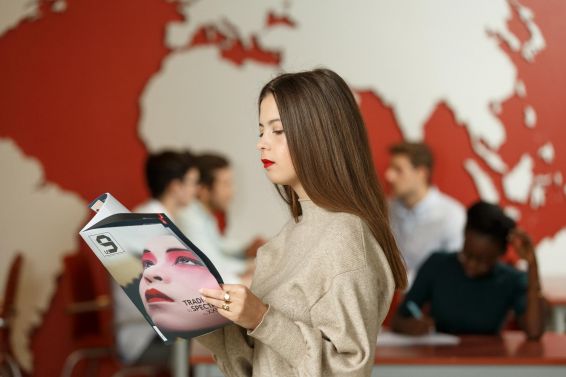 An even greater international dimension!
The ambition for internationalisation has also been a mainstay of the school. This year, NEOMA Business School shifts up a gear and sets up several initiatives to strengthen this aspect, which aims to benefit students and runs closely to the school's immersion philosophy.
30 new agreements with the best universities in the world
"Since its start, NEOMA Business School has implemented an ambitious international development policy that consists of relying on its high-level partnerships so it can send small groups of students abroad," Delphine Manceau, the school's dean, explained. The school has announced the signing of 30 new agreements with accredited, first-rate institutions, "We are delighted to welcome these universities into our network, which now includes 330 partners," Ms Manceau added. "We are partners with Instituto de Empresa in Madrid, the Hong Kong Baptist University, American University of Beirut and Baruch College in New York, to name just a few."

UC Berkeley, a new partner in helping incubate start-ups in Silicon Valley


The programme "Entrepreneurs without Borders" has expanded with the addition of two new partners; UC Berkeley in the US and Copenhagen Business School in Denmark join the Fondation Getulio Vargas (FGV) in Brazil and Shanghai Jiaotong University in China. The initiative currently covers four continents and offers students the possibility of taking courses in entrepreneurship, immersing themselves in a partner's incubator, having access to the local ecosystems and building a start-up with an immediate international reach.



2 new specialised tracks starting in 2019


• The Global Experiences specialised track offers the option of taking two academic semesters on two different continents (one per year) during the first two years of studying, each time studying at first-rate universities. These experiences are complemented by two international internships. The network for this programme currently includes 27 accredited universities in 20 countries, on 5 continents. "We are lucky to include among our partners St Gallen University in Switzerland and Université Laval in Canada," Sylvie Jean, the programme director, said.
• The Future in Asia specialised track is intended for those who have a deep interest in Asia and it includes two academic experiences in two countries: China, South Korea, India, Japan, Malaysia, Taiwan, Thailand or Vietnam. To complement the academic aspect, students will do two internships abroad. This new track relies on the school's long-held partnerships with some of the most recognised schools in this region including Sun Yat Sen University in China and Nagoya University in Japan.



Internationalisation: 1st place in international perspective for the 2019 rankings in The Economist


In the rankings for The Economist in Masters in Management (MiM), the Masters in Management Programme at NEOMA Business School is ranked in 19th place in the world and 4th for schools in France that offer a MiM. The programme stands out in particular on the criteria connected to the programme's internationalisation, holding 1th place in the world. This performance rewards the school's strategic commitment that encourages small-group immersion in the best universities around the world. "We are proud of this result, which underpins our development strategy and vision," Delphine Manceau, the dean of NEOMA Business School, explained.



A white paper "French higher education: a world player"


For the first time, Audencia and NEOMA have worked together to publish a white paper on the international strategic of business schools. This white paper interviews both French and international students who share their experiences outside the borders of France. Also academic players give their input in order to provide an analysis of what the international aspect in 2019 means for our French business schools. The result of this collaboration is a sixty-page document that can be freely accessed by all and downloaded.