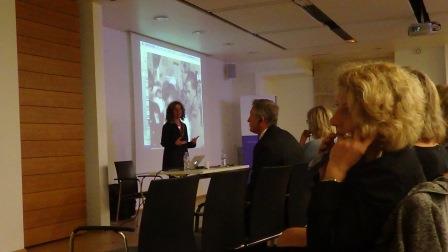 An exceptional conference based on "Facial expressions and signs of hidden emotion" on the Paris campus
On Tuesday, May 10, the Paris campus of NEOMA Business School had the honour of welcoming Erika L. Rosenberg, PhD, Stanford Senior Teacher, world-renowned expert in the detection of facial expressions of emotion and facial expression measurement mechanisms. At the school, Erika led a one-of-a-kind conference in Europe on the subject of "facial expressions and signs of hidden emotion".

During this high-calibre conference held for an audience of more than 100 people made up notably of partner companies and graduates, Erika demystified how emotion shows itself or is controlled through our facial expressions and how certain signs can reveal hidden feelings.
Erika Rosenberg, PhD, is a doctor in health psychology as well as a researcher and professor of meditation. She works as a consultant for businesses and the film industry. As a Consulting Scientist at the Center for Mind and Brain, University of California, Davis, she is one of the professors who founded the programme on compassion and altruism at Stanford University. In 2010, she presented the programme at Google Inc. for the Dalai Lama.

At the end of her excellent presentation at our school, audience members went to a post-conference reception to enjoy good company and exchange ideas.