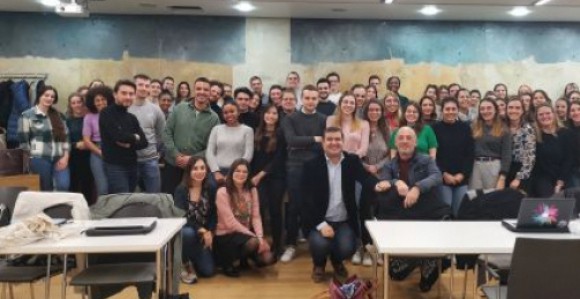 An exciting and rewarding encounter with the CEO of Innocent
As part of their Market Study module, the students on the Advanced Master in Marketing Research & Decision Making had the fantastic opportunity to meet Nicolas Marotte, Managing Director of Innocent for the France-Belgium region.


"The idea behind this collaboration was to found out more about the well-known 'love brand'. The aim was to help students really understand the brand's market approach and how the company manages to listen to its consumers and their expectations, in particular via the social networks, to learn how to fully optimise the creation of value." explains Othman Boujena, associate professor and Head of the Marketing Studies module.
Meeting a passionate CEO who is ready to pass on his expertise, values and vision is a rich and instructive experience for students. Such encounters are a real complement to the classes and allow students to gain a realistic and professional perspective to help them develop a global understanding of marketing practices.

An inspiring ambition and a responsible outlook
"I am one of the remaining leaders who can have an impact on the future of the planet," says Nicolas Marotte during his talk. "When we set our sights on producing natural and delicious drinks that help people live well and die old, we have to stand by our values of transparency and social and environmental responsibility." explains the CEO of Innocent.
The brand continues to implement a number of social actions, such as the famous Big Knit campaign, which invites volunteers to knit little woollen hats to keep the brand's smoothie bottles warm in winter. For each hat, Innocent donates 0.20 euros to Petits Frères des Pauvres, an association fighting loneliness amongst the elderly.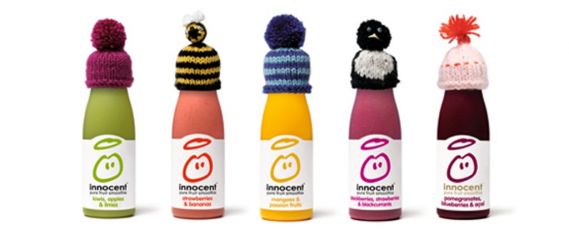 "These are actions that make sense and unite both our employees and our consumers, who perceive the coherence and purpose behind the policy. Thinking about a product is not a series of steps , but the reflection of a strong strategic corporate vision. Our brand wants to play an active role in the environment and guarantee a better world for future generations," explains Nicolas Marotte.

The marketing strategy explained by its initiator
"The students really appreciated the person, whose posture was very unlike a typical institutional figure, but who was ready to hold a very open, empathetic and transparent discussion with them." says Othman Boujena.

Following his speech on Innocent's philosophy and initiatives, Nicolas Marotte held an hour-long Q&A session with the students. The students were not always in agreement with the CEO, who was questioned on the company's supply policy, for example, or on the challenge of the seasonal supply of certain fruits that does not necessarily affect the availability of smoothies in sales outlets. But many quizzed the guest speaker about the policy concerning presence and engagement and the co-creation of content with the brand's community on the social networks, which is one of the love brand's major assets.

The question-and-answer session also provided an opportunity to address more technical issues such as capturing insight and the brand's pro-active approach to innovation, which can adapt to consumer trends and habits in different regions of the world.

The question of packaging was also discussed. "For Innocent, packaging is an important communication lever and a powerful means of asserting the brand's visual identity", says Nicolas Marotte. "However, we are highly vigilant that the most socially and environmentally responsible policies are applied concerning this issue".

Discovering a success story driven by a forward-looking and human leadership
The students were greatly impressed with the exchange. "Nicolas Marotte is humble and modest. He gives the impression of being a compassionate and caring leader, which goes way beyond the economic function and makes it almost natural for the company to take on social and ecological roles," says one student.
"Contrary to popular belief, Nicolas Marotte is proof that it is possible to combine passion, business and activities that are socially and ecologically responsible; that models that manage to combine all these dimensions and have a positive impact on humanity do exist," adds another student.

"Such encounters are an important teaching resource," concludes Othman Boujena. "At times, students tend to ignore the holistic and transversal dimension of a company's different functions, including marketing. But each piece is part of the same puzzle. A company is a cohesive story. And very clearly, Innocent's success and reputation makes this transversal approach visible, allowing the brand to orchestrate everything in line with its vision and the goals it sets itself".