An expanded scholarship policy
For several years now, social inclusion has been one of the school's biggest commitments. To ensure that any talented young person can attend NEOMA, an ambitious scholarship programme supports financial aid students who come from more modest backgrounds.
Championing equal opportunities and social and cultural diversity is one of the issues that NEOMA has been committed to. "For the past several years, it has also become a major expectation of the students who enrol at our school, "Matthieu Lucas, director of the Scholarship, Aid and Partnership Centre, said.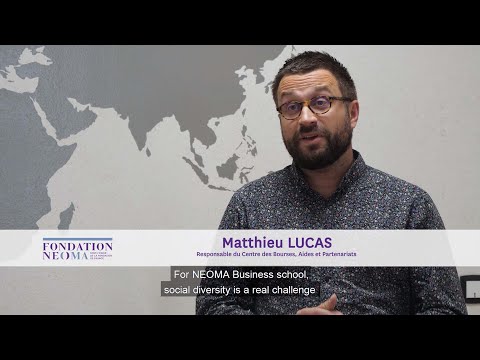 The scholarship policy developed by the school is vital because it allows students to focus on their studies. "The programme that we chose to set up is based on the scholarships attributed on the social criteria laid out by CROUS. It guarantees tuition exonerations of up to €10,000 for a student in the Master in Management programme," Bénédicte Dulaquais, director of the Accreditations, Certifications and CSR department, said.
This major commitment on the part of NEOMA has already seen results. Since 2017-2018, the school has allocated one million euros to more than 1,300 students. Over this same period, the number of students receiving aid from CROUS and who also belong to levels five to seven, which represent the most underprivileged families, has continued to increase with a notable increase of 42% among level-seven students.
With one quarter of its students receiving support through the attribution of scholarships or through apprenticeships, NEOMA is among the premier business schools in the top twelve French institutions in terms of financial aid.
Starting in the coming academic year, the school wants to expand this support even further. "We have already reviewed our policy so we can increase even more the amounts allocated to the students who have the greatest needs. Our goal is to distribute one million euros in 2021-2022!" Bénédicte Dulaquais said.