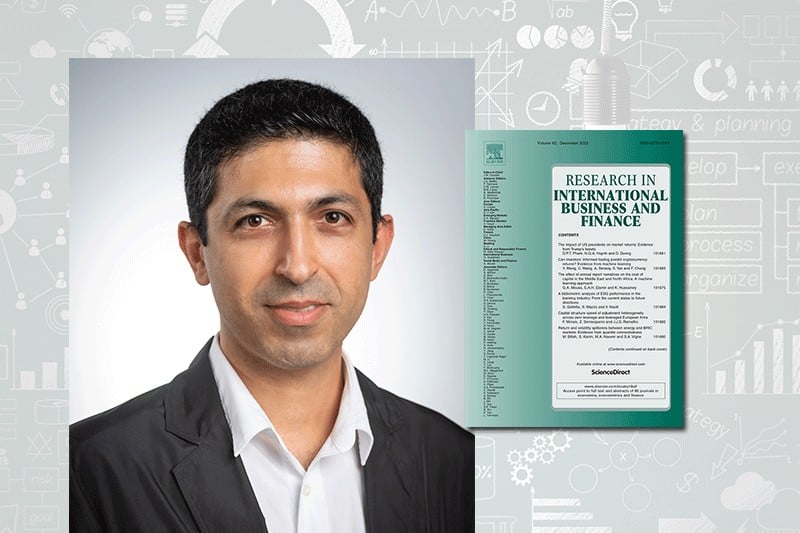 Arash Aloosh Editor of a new Area of Research in International Business and Finance journal
Arash Aloosh, a fintech professor at NEOMA Business School, is joining the editorial board of Research in International Business and Finance journal as an Area Editor. Arash will be in charge of the new area "Social Media and Finance", a relevant and critical emerging issue today. Interview.
Why did you recommend the creation of this new area titled "Social Media and Finance"? 
Over the last decade, we have seen a huge development in financial technologies (e.g., blockchain and trading apps among many others) and the massive impact of social media platforms on our social life and experiences. Now, we are facing a dramatic change in the retail user experience empowered by social platforms and FinTech apps (for example, social trading), and consequently, a significant socio-digital transformation in financial markets.
This transformation is changing the traditional financial systems very rapidly toward modern financial markets, which are less centralised, more democratic, and much more user driven.
Therefore, there is a strong demand for research in this area to foster our understanding of this transformation and its consequences on our economy. Together with Samuel Ouzan and Hyung-Eun Choi (NEOMA professors), I am actively involved in studying this area and we have developed some interesting projects on this topic. Several prestigious conferences, including "the Wolfe European Quant and Macro Investing Conference", invited us to talk about our research projects to their audiences, including high profile researchers, top asset managers and policy makers. 
Research in International Business and Finance is a new but fast-growing journal, with the Impact Factor of 6.143, and the h5-index of 67, ranking it 7 out of 111 in Finance/Business journals, according to the latest Google Scholar Impact Factor rankings. This is why I suggested RIBAF to take a lead in the Social Media and Finance area. 
How do you apprehend your role in the editorial board?
I handle the peer-review process of submitting manuscripts to the journal in the area of "Social Media and Finance."
Also, I will promote the RIBAF journal among researchers, practitioners, and policy-makers. We are currently building a community around this area to share our expertise, perspective, and experience about the characteristics, dynamics, impacts of this socio-digital transformation and the future of finance.
Research in International Business and Finance (RIBAF) seeks to consolidate its position as a premier scholarly vehicle of academic finance. The Journal publishes high quality, insightful, well-written papers that explore current and new issues in international finance. Source: Elsevier