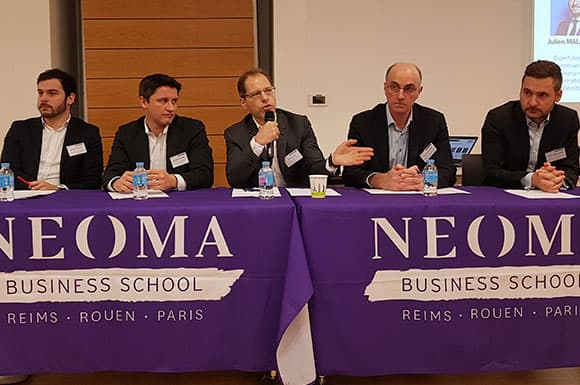 Blockchain, could it revolutionise the supply chains of tomorrow?
This was the central question of the NEOMAtinée seminar on 20 December, titled "Vers la supply chain 4.0 : la Blockchain comme technologie disruptive" (Moving towards supply chain 4.0: Blockchain as disruptive technology), which brought together blockchain and logistical information systems experts on the Paris campus of NEOMA Business School.

Blockchain is real-time data storage and recording technology that claims to guarantee maximum transparency and security for data exchange. In the supply chain field, these are major challenges for the successful digitisation of the logistics sector.
Organised by Jérôme Verny, Head of NEOMA BS MSc Digital and Innovative Supply Chain, this seminar was the first in a series - in the framework of the programme - devoted to the possible applications of blockchain in logistics.
The seminar held discussions with professionals concerning projects such as a new model for home delivery of packages or the facilitation of shopping for tourists.
Next seminar: 23 January in Paris "First mile / last mile : quels seront les modeles collaboratifs de demain ?" (First mile/last mile: what are the future collaborative models?) Information and free registration here.

Learn more: