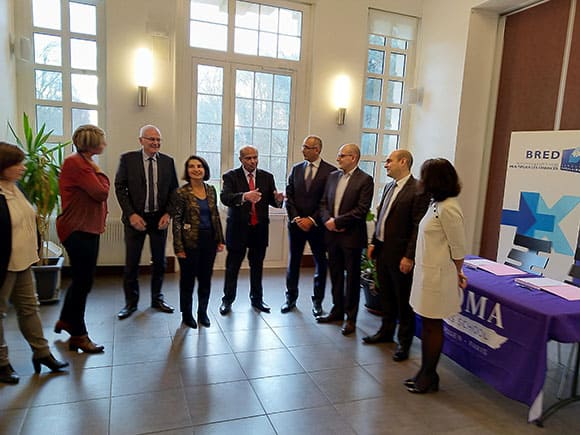 BRED-NEOMA BS partnership strengthened to finance student scholarships
On 19 December, the signing of a financial partnership agreement between BRED and NEOMA Business School took place on the Rouen campus. The BRED, an exclusive provider of family guarantee-free loans, is becoming even more actively involved in promoting diversity and broadening access to the Grandes Écoles.
As a cooperative bank, BRED is an integral part of the social and solidarity-based economy, making equal opportunities one of its major concerns. Through this strengthened partnership, NEOMA BS is guaranteed support in facilitating the emergence of new talent and granting them access to courses of excellence.


BRED already plays a major role as a partner with NEOMA BS by financing the students' tuition fees. Indeed, BRED is the only partner to grant family guarantee-free loans, thus contributing significantly to the School's social development. This proactive policy of openness is a priority for NEOMA BS, ranked first in the Top 12 in France with a rate of 24% of assisted students. This approach is strongly encouraged and accelerated by the school's President, Michel-Edouard Leclerc, for whom "no student selected by NEOMA BS should have to give up their studies due to a lack of resources."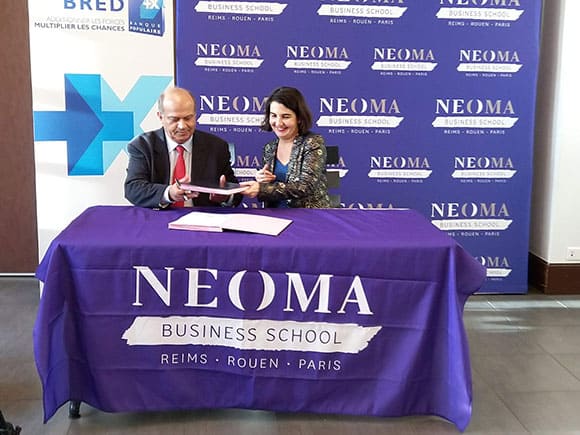 In the presence of Delphine Manceau, Dean of NEOMA Business School, and Éric Montagne, Deputy General Manager of BRED, the three-party-agreement signed by the NEOMA FOUNDATION, the School and BRED is in line with the strategy of each of the three partners.
"I am delighted to rejuvenate this partnership," explains Éric Montagne. "We would really like to make an active contribution by making scholarships available to the most disadvantaged. We also offer great career opportunities and internships. Indeed, several NEOMA Alumni are already employed by the company."
* With a 24% rate of assisted students (CROUS scholarships and apprenticeships), NEOMA Business School is the leading Top 12 School in France, with 750 apprentices and 221 scholarships awarded in 2018.