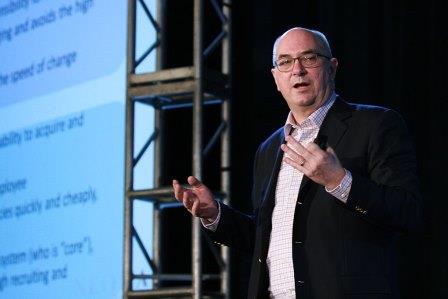 Chris Worley analyses organisational agility at the 2016 Human Capital Summit
On 29 March, at the world-renowned 2016 Human Capital Summit, organised this year in New Orleans, Christopher Worley, Strategy Director at the School's Centre for Leadership & Effective Organisations, gave a conference on agility, entitled "Misconceptions of Agility and Talent Ecosystems."

Facing an international audience of professionals and academics, Chris reviewed the very term "agility," which has become so popular recently among boards of directors, leadership development programmes and the business press. The strategy and entrepreneurship professor explained that this expression, currently trending in management circles, is largely misunderstood.
During his lecture Chris discussed the exact meaning of organisational agility and its importance for today's businesses. He also detailed the two major genuinely effective strategies for talent management. The specific characteristics of talent management and, more generally, human resources management procedures used in agile organisations also received his attention.
With this type of advanced-level action across the globe, the Centre for Leadership & Effective Organisations team promotes the School's cutting-edge expertise.