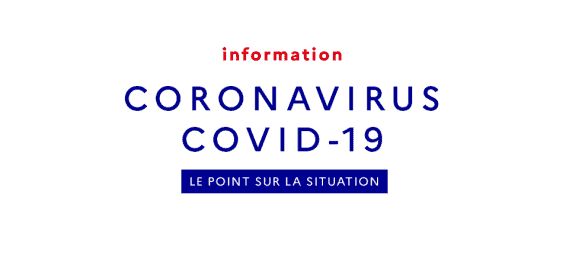 NEOMA Business School has been following the coronavirus situation very closely with the setting up of an internal management unit in January charged with applying official instructions and implementing any required measures. The unit is made up of the Dean's Office, Heads of Campus, Programme and International departments. Our teams have therefore been active since the beginning of the outbreak to ensure individual support is provided to each student affected. Communication has been stepped up to ensure that official recommendations and guidelines are regularly circulated.

This page will be regularly updated, as new information becomes available


UPDATE 9 MARCH 2020


No student or staff member at NEOMA has been infected with the coronavirus to date. However, following the spread of the coronavirus in France, the School has set up a number of precautionary measures that must be respected.


Requirement to complete an online form to report contamination or suspected contamination :
The following cases must be declared :
• Suspected contamination
• Medical consultation and waiting for test results
• Confirmed contamination

Home quarantine in case of confirmed contamination :
To prevent the virus from spreading, it is essential to stay away from work and the campus for the duration of the illness. A return to the campus is possible at the end of any sick leave period.

Home quarantine for those returning from the Chinese province of Hubei (professional or holidays) or from hot spots in France :
• Requirement to fill in the declaration form no later than 24 hours before your planned return to school
• Home quarantine for a two-week period before returning to the campus
• No such case has been reported to date

For those returning from identified high-risk regions (Singapore, South Korea, Vietnam, Northern Italy, mainland China, Hong Kong, Macau and Iran) :
• Lifting of quarantine measures (in accordance with official stage 2 epidemic guidelines).
• Those returning from countries/regions identified as "at risk" (Singapore, South Korea, Vietnam, Northern Italy, mainland China, Hong Kong, Macau and Iran) can therefore end previously recommended quarantine and attend classes and/or work on campus. However, they are encouraged to limit social activities and self-monitor their state of health (taking temperature two times a day).

Reminder of recommendations issued by the Health Ministry :  
• Wash your hands regularly or use a hand sanitizer solution,
• Cough or sneeze into your inner elbow or sleeve,
• Use single-use disposable tissues,
• Avoid shaking hands and kissing,
• Avoid wearing a mask if you are not sick, 
• Avoid travel outside the European Union and to areas classified "orange" by the Foreign Office, (https://www.diplomatie.gouv.fr/fr/conseils-aux-voyageurs/)
• Postpone, whenever possible and until further notice, non-essential trips to high-risk areas (Singapore, South Korea, Vietnam, Northern Italy, mainland China, including Hong Kong and Macau, and hot spots in France*),
• Students, researcher professors and staff members currently in China and Northern Italy are advised to interrupt their stay until local conditions improve.

In case of fever or feverish feeling, coughing, difficulty breathing :
• Call the Emergency Services (#15) and inform them if you have been on a trip; 
• Avoid all contact with people you know and continue to wear a mask; 
• Do not go to the doctor's or to the hospital right away. 

Finally, a free information number (0 800 130 000) has been set up by the Ministry of Solidarity and Health, open from 9 a.m. to 7 p.m. seven days a week. However, this telephone service is not authorized to provide medical advice, which is available by calling Emergency Services Centre (15).