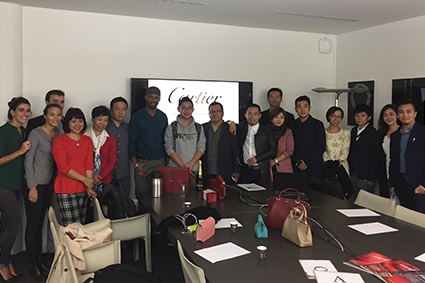 DBA: A Parisian Welcome for the Second Cohort!
Early October, NEOMA Business School welcomed its Doctorate of Business Administration (DBA) students on its Paris Campus for their annual study tour.

The three-year Doctorate of Business Administration (DBA) is a joint programme between Shanghai Jiaotong University and NEOMA Business School. It combines research training and supervised research to help professionals and managers to develop conceptual tools and acquire skills needed to create innovative management solution in a fast-changing, global business environment.

Wen-chieh LU, VP Operations of JW Medical Systems Ltd and student in our second cohort, gives his view on the programme:
"My MBA degree from NEOMA BS gave me the capability to succeed in my career for the past ten years. Extending this experience with NEOMA BS DBA programme, I keep the same confidence that the high-quality education of NEOMA BS will push me to another high level in my knowledge, life, and career."

Yi JIN, Senior Manager in the Talent team for the Richemont Group and student in our second cohort, adds:
"It is an unforgettable learning journey in my whole career and even in my life. I rediscover some completely new views and angles about how we look at the surrounding after completing the journey and coming back to the real world. It is amazing! Looking forward to the next journey with NEOMA DBA programme."

As its name indicates, the study tour was an opportunity to study hard, with three courses organised on topics ranging from the research process, to qualitative methods and to organisational behaviour.

Students from the inaugural cohort were also back to France, some 18 months after their first study tour on the Reims Campus. Yong LIU, Senior Vendor Manager at Amazon China and student in the first cohort, reflects:

"I appreciate this tour on NEOMA BS Paris Campus. It is impressive that we have experienced Professors and a rigorous teaching style. We learned new theory through rich and detail cases. We enhanced our mutual understanding and developed a clearer vision through our interactions. More importantly, we shared our ideas through group discussing in the classroom. The tour was also an opportunity to meet with our research supervisor and discuss our project. It really raised our confidence in our ability to complete this project successfully."

But there was more than just hitting the textbooks and discussing research! Students had an an opportunity for a corporate visit at Cartier (thanks to Yi JIN!), and of course they also took this chance to explore Paris. For TANG Huamei, AP Smart Mobility IT Group Manager at Ford Motor Co.,

"It was a really exciting experience! Meet my classmates with different backgrounds and exploring the fantastic learning journey together with them in NEOMA BS Paris campus, brain storming and learning from each other, with our amazing intelligence and warm hearted professor as instructor, I could not find better words to describe how wonderful the learning experience was, just love it! Off course the fantastic foods and romantic Paris city even add more fun!"

The study tour also turned into a reunion of a sort. Shirley YU, Project Director at our Shanghai-based academic partner CPMC, joined the group. Shirley contributed immensely to the design of the programme over two years ago, before moving on to other projects:

"I was so happy to join this amazing study tour in Paris with NEOMA BS DBA students, which makes me recall all my memory of 2014, when I first started discussing this creative Doctorate programme with Prof. Sebastien Lleo. Thanks to him, NEOMA BS faculty and administrative staff, a thoughtful organisation, a high academic quality, an unforgettable Cartier visit, and an enthusiastic group made this study tour fantastic and indispensable. I am just so glad to see our DBA programme develop so fast and look forward to 2017 study tour already."

A programme is not just an academic adventure. It is also a deeply human experience.
>read more about NEOMA Business School and Shanghai Jiaotong University School of Continuing Education joint DBA programme