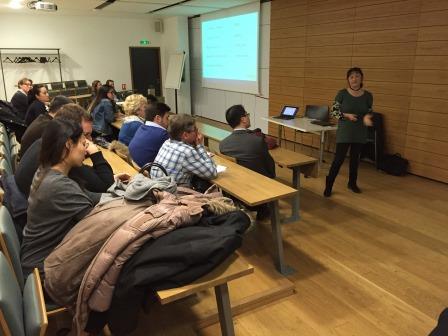 E-commerce opportunities in China closely analysed
On 28 April, the International NEOMA Alumni Club and NEOMA Confucius Institute for Business organised a presentation and debate about e-commerce opportunities in China.The event brought together at our Paris campus alumni, members of the School's Confucius Institute and high-ranking speakers.

The topic of the challenges of e-commerce in China is a genuine hot topic in a context where more than 30% of global e-commerce sales are now made in the country, making China the world leader. With its 660 million internet users, the country's market share should grow to 50% of global sales by 2018.

"These figures strengthen our impression that this market presents infinite opportunities for French and international firms," explains Haiyan Zhang, Director of the NEOMA Business School Confucius Institute for Business. "In such circumstances, it is the role of the Confucius Institute for Business to inform our network about the opportunities for e-commerce offered by the Chinese market."

To explain the rules of the game in this business, its potential and the conditions for success, Camille Chen, journalist and editor of the magazine Patrimoine & Marchés, was present. She discussed both the challenges of the sector and its major players in China. Ping JIANG co-founder of F2C E-solution, a partner of the firm JD.com, e-commerce leader in China, was also present to describe his practical experience of e-commerce selling for European firms in China.

The event concluded with an informal drinks reception, during which the audience could continue their discussions with the speakers and representatives of the institute.