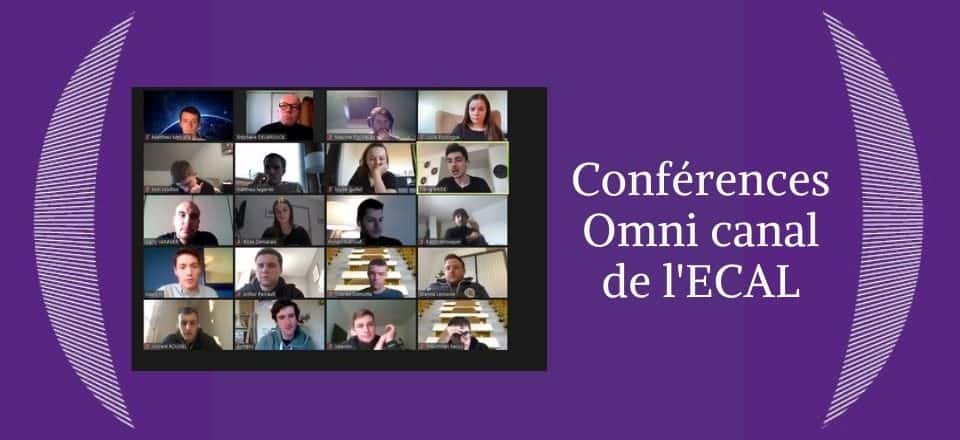 ECAL organises conferences between students and graduates
Creating a network and having a better understanding of the ever-evolving distribution sector is the aim of the Omni Canal Conferences made available for the ECAL students this year.
To complement the new course module entitled "Omni canal" for ECAL 2nd year students, Stéphane Delbrouck, finance teacher, set up a series of "Omni canal conferences" which features the participation of ECAL graduates. Basically, the students work on a given theme in class with their teachers, which is then followed by a second video discussion phase with ECAL graduates. "The world of distribution has experienced a number of major developments, and not only since the COVID-19 crisis. The conferences help us to prepare our students for the retail sector, which is going through major upheavals," explains Stéphane.
This new series of encounters not only helps students to apprehend and master the reality of the distribution sector, but also reflects the School's pro-active approach concerning its graduates. "We came to realise that the students know very little about the career paths of our alumni and that we generally only contact them to invite them to recruitment events or end-of-year juries," adds Stéphane.
The conferences were organised around 4 themes, which were highly appreciated by the students: 'Working abroad', 'Creating or taking over a company', 'Digital professions' and 'Supplier-distributor relations'. For Maxime, "these conferences  were really rewarding. We found out a lot about the professional side of things, but also about new types of business and the opportunities that are open to us."  Maximilien also found the conferences very interesting: "In practical terms, they allowed us to see what ECAL is preparing us for in the future. These exchanges also really helped us to expand our network."
Feedback from the graduates is also very positive! They were more than happy to share their experience with our students and they also got to discover many inspiring career paths and new professions from the 2-5 graduates invited to each conference.