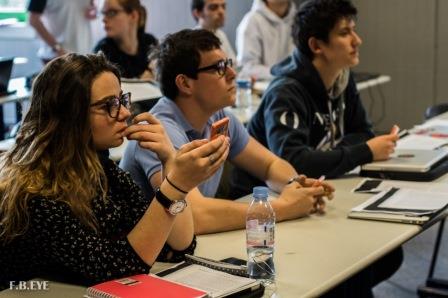 Electronic voting devices have arrived in our classrooms
A group of teachers tested electronic voting devices in February and March on our Reims and Rouen campuses. The innovative initiative was organised by CUBE (Counsel Unit for Blended Education) from the Teaching and Learning Centre, to enhance the quality of our teaching and active pedagogy. Here we review this innovative and enriching experiment.
What is an electronic voting device?
Voting devices enable students to answer questions asked by the teacher directly in a PowerPoint slideshow. A key connected to a PC collects the answers and displays the results in the form of graphs.
These devices enable teachers to check that students have understood, collect their opinions to launch a debate, and discover the class's views on a given topic, either anonymously or not.
Feedback from a stimulating experiment
These devices are increasingly used in universities. Research is currently under way to investigate their impact on how students engage with their studies, and on understanding and memorising course contents. Such topics are at the heart of our work.
In Rouen, Florence Duvivier, a new Strategy professor, launched the tests by organising revision sessions for students in the student society and non-management MiM tracks. Other teachers, such as François Pottier in management control, Nathalie Janson in Banking Regulations for the MiM programme and Linda Furnon for first-year BSc in International Business programme, also used the devices to help their student revise just before their exams.
More than 90% of the students who took part in the tests stated in a survey that they think the School should buy voting devices. The survey also highlighted several strengths: the fun, dynamic aspect of the devices, but also the students' position in the class and the immediate information about their problems, and therefore which topics they need to work on.
In Reims, Yen-Tsang Chen took advantage of the dynamic nature of the device in a MiM course in Operations management, by including regular questions in his slideshow, helping students to remain concentrated throughout the session. Finally, Aude Girard, a Marketing teacher, used voting devices in a mock exam for alternative admission BBA students, to find out the level of each student in real time.
"Testing new devices in real conditions can be difficult, but we were present to answer any questions and to endure that the experiment went well," stresses one of the CUBE educational engineers, who was present in the classrooms alongside our teachers in Rouen. "Choosing the best equipment is vital. We studied the different products available on the market and proposed the most advanced system that was easiest to use with the IT equipment made available to our teachers," he added.
Given the positive feedback from both teachers and students following the test phase, the T&LC will soon be making available a set of 50 voting devices on our Paris campus and three sets of 50 devices for each of our other two campuses, in Reims and Rouen. The devices can be grouped into a single set, making it possible to use them with groups of up to 150 students in Reims and Rouen.