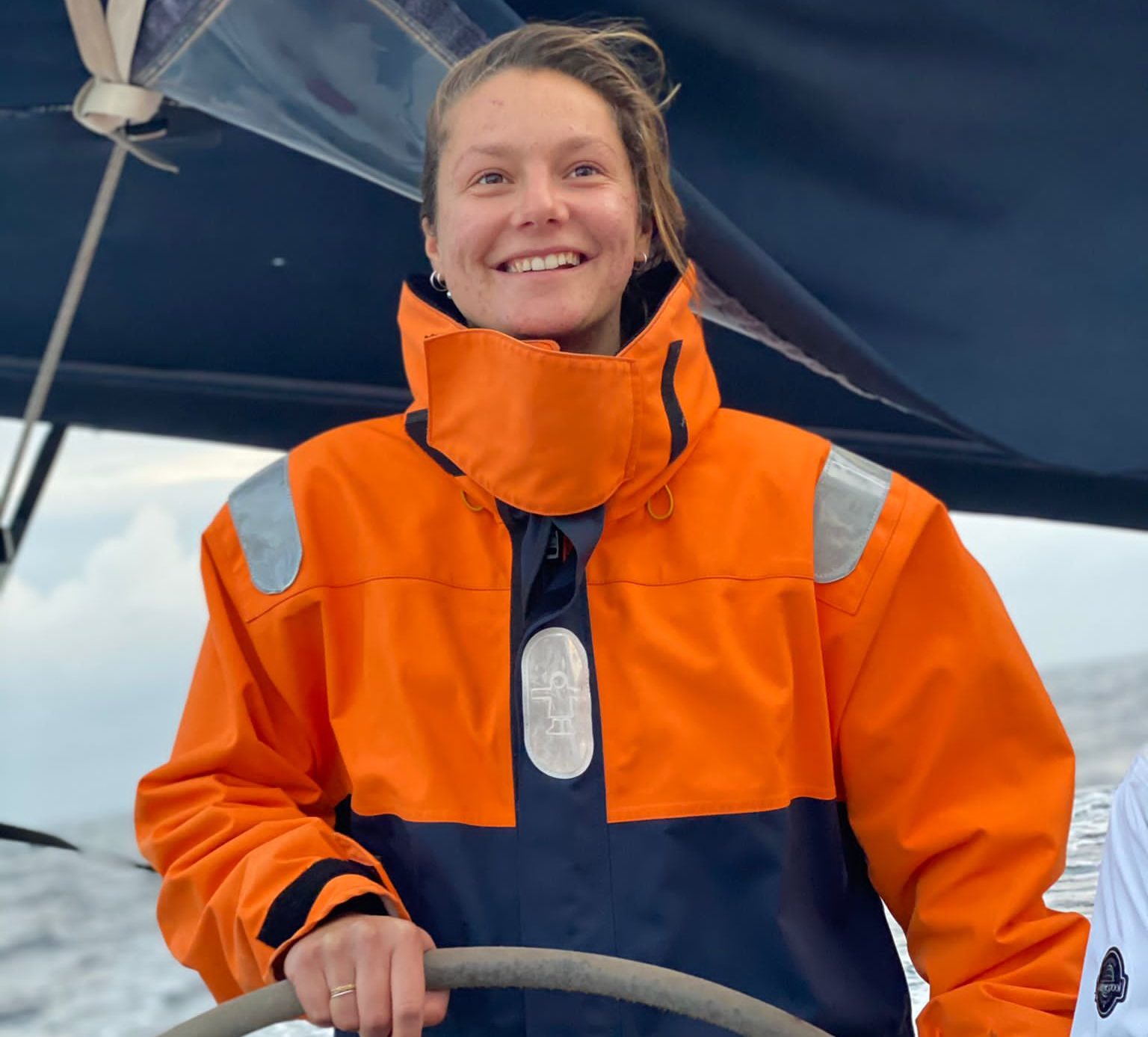 Faced with cancer, student Sybille Pillet set herself a challenge
"You can always achieve your dreams, even with a serious illness. And while you're undergoing treatment, you need an objective in your head." That's the message Sybille Pillet, a student on the Master in Management at NEOMA, wanted to get across. When she was diagnosed with cancer, she had to stop everything to undergo treatment. Once she was in remission, she decided to set up a project combining sailing, her lifelong passion, and the disease, and hit on the idea of sailing all the way to Martinique. The Cheer Up Society at NEOMA, which works for the same cause, lent her their support. "I would never have made it without them," she says gratefully.
There was then a whole year of preparation, what with looking for sponsors and working on the boat. But the lockdown slowed down all these essential activities.
Leaving Lanzarote
February 2021, in Lanzarote, Canary Islands, the day before leaving for the great voyage. On board are: Typhaine (Sybille's sister), Sybille, Cyrille (Sybille's father), and Lilian, a friend; he has also been affected by cancer. As good Bretons, the Pillet family are expert sailors.
On the high seas
Heading for the Antilles. Nineteen days at sea. Every day there is the great spectacle of sunrise and sunset. "What I like best is finding yourself completely alone, facing the sea, that's always awe-inspiring. It's so pleasant, calming and restful," says Sybille.
The sponsors
The voyage is partly financed by the sponsors. The main ones are all listed on the boat's sail. To finance projects for sick children, Sybille and the Cheer Up Society plan to sell off equipment from the boat after the crossing.
The sponsors are: La Fondation la Roche Posay (La Roche Posay Foundation), PM Gourdin, CheerUp, La ligue contre le cancer (League against cancer), Leucemie Espoir (Leukemia Hope), Kiwanis, Ecole notre dame de la croix (Notre Dame de la Croix School), BDX (Bureau of extreme sports), NEOMA Business School, NEOMA Alumni, Russo Yachting, City of Vannes, City of Rouen.
Rough seas
The crossing also ran into some rough seas. "We were a bit frightened off the coast of Morocco," recounts the NEOMA student. "We had to cope with a 50-knot wind, and it was impossible to seek shelter in a Moroccan port. Morocco would not accept any foreigners because of Covid. It was quite worrying finding ourselves all alone in a dangerous situation. The boat could have broken up at any time. But when you have no choice, you just have to go forward!"
Talking about cancer
Lilian and Sybille are wearing t-shirts with the Ob'Aja logo; that's a Breton association that helps children suffering from cancer. The two young people went into schools to talk about the disease. "There is a lot of ignorance," says Sybille. "I wanted to show them that I have had cancer, that I'm well now, and that I am the same person I always was."
Killer whales
"That was an amazing experience! We were off the coast of Portugal. It was eight o'clock in the morning, I was at the end of my watch period, when a group of six killer whales appeared. But these creatures can be dangerous. Sometimes they will attack a boat and they can break the rudders. These ones swam off after quarter of an hour."
Life on board
On the left is the chart table with all the navigation systems; on the right are the food stores. "We ate quite well. At weekends, we made ourselves really nice food: confit of duck, tartiflettes… At the beginning we ate fresh produce, but with the damp and the heat, food could quickly go mouldy."
Arriving in Martinique
We finally arrived in Martinique. "How did we feel at that moment? We said, Wow, we've done it, everything's gone really well! And we were pleased to be back on dry land," recounts Sybille. Hardly had they landed when Sybille and Lilian were going into local schools to talk about their voyage. Believe in your dreams!