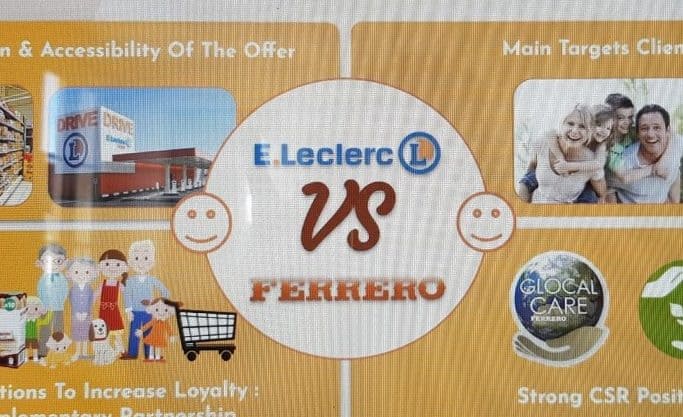 Ferrero E.Leclerc Case study : Student impressions
'The Ferrero-Leclerc Case Study: Industry-Distribution Strategic Relations', that was the business case set for the 159 students on the Msc International Marketing & Brand Management.
At the end of March, the best groups presented their work to representatives from both companies. Lucie Chion and Clémence Chambeyron from these groups recount their experience.
What was expected? ?
Lucie: We had to play the role of a Category Manager at Ferrero for the E.Leclerc brand. Category Manager is the spokesperson for your products with the distributors. You have to develop a whole rationale, say why you want your product to be referenced in that way, how you would like the whole section to be organised, why this brand should make room for your product… It's real diplomacy in sales.
And it's also a huge amount of work to analyse figures, concerning sales, promotions, which you put together to support your merchandising rationale: the market trends, the brand opportunities, as well as the unique nature of the products. So it's a profession with many aspects.
What data did you have to help you devise your recommendations?
Clémence: Both companies had started by presenting themselves. We also had files so we could understand the respective vision, values and issues of E.Leclerc and Ferrero; numerical data on the performances of the biscuit category. For example, for E.Leclerc we had information on merchandising and on the range, among other things.
Lucie: We had documents to help us understand the notion of 'pleasure', a notion which is fundamental in attracting consumers and essential for Ferrero. And documents that revealed where the manufacturer Ferrero and the brand Leclerc either converged or diverged. Our recommendations were meant to ensure a lasting, strategic partnership between the two companies.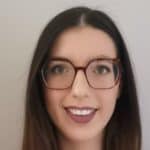 Clémence: This data was a real goldmine on what a business strategy actually was. We used it a lot. This work experience really let us see inside the profession of Category Manager. That's what was interesting about the project, it was more substantial than reading a job description!
"The work done was of very high quality. There are things we will be able to draw inspiration from. This is what a good presentation by a Category Manager looks like, when you learn things and you say to yourself, there are some good ideas here, I must talk to my teams about them. This exercise enabled us to look at things more broadly and see them in a new way," Bertrand Nomdedeu, Managing Director Commercial & Sourcing, and member of the E. Leclerc Board, 30 March 2021
How did you prepare for the final presentation?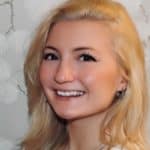 Lucie: We had to impress the representatives from Leclerc and Ferrero, two major companies, we couldn't just do little presentations on PowerPoint. Everybody set the bar high. We set ourselves the objective of delivering our whole analysis and recommendations in the most visual way possible to get their attention. Our teachers, Julie Meurisse and Isabelle Ulrich, said to us, "Enjoy yourselves, put some fun into it" and "If you want to attract the customer's attention, take care with both the form and the content."
Clémence: We really wanted to be capable of doing this, to excel and not to disappoint. That was both stressful and stimulating. The Friday before the presentation, after we received our teachers' feedback, we redid the whole thing from beginning to end, in the space of a weekend.
Lucie: Yes, we had a very challenging weekend. The coaching session by Julie Meurisse and Isabelle Ulrich enabled us to improve. At the end of the final presentation, they sent us an email congratulating us, which made us feel really good and proud of ourselves!
Few words to describe this experience 
Professionalising: The project reflects exactly what is required every day of a Category Manager, it threw you into the profession, and it provided excellent training because we were treated like professionals.
Enriching: This experience will enable us to be better prepared when we go into the world of work. Whether or not we want to work in this profession in the future, we will be able to use this training again and again.
Challenging: The timing was very tight, we gave the very best of ourselves. The biggest challenge was to look at ease and convince the representatives from Ferrero and E.Leclerc.
Cross-cutting/convergent: We used everything we had learned at NEOMA to deliver the best work possible.
Experiential: We acquired the skills of a Category Manager which we will always be able to call upon.
Cooperation: We were all very supportive and helpful to each other. Everyone was able to find a role in the project, we complemented each other very well.