"Forum Entreprises" : where student talent and recruiters team up !
80 different companies were present to meet NEOMA students on October 15 in Reims and October 22 in Rouen. The perfect opportunity to pass on information about their professions, discuss their company vision, potential internships, jobs, V.I.E,...

Ties perfectly adjusted, shoes well-polished, make-up neatly applied, CV in hand... The students are ready to meet the recruiters of the 80 or so companies that have made the trip to the 2 Campuses this October. Representatives from all kinds of companies, from multinationals to start-ups, are on-site to spot new talent and identify potential future employees. A wide range of sectors are represented: audit, consulting, consumer goods, retail, banking, insurance and in particular,the luxury and services sectors.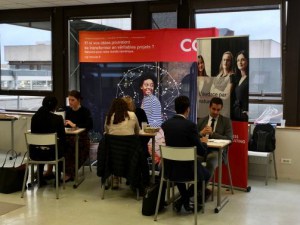 "The forum is a unique opportunity for our students and recent graduates," says Mélanie Gonnet, Talent & Career department coordinator. "They have the perfect opportunity to obtain an internship or job interview, discover new companies, broaden their knowledge of specific professions by talking to people from the sector and above all develop their professional network. The companies present on campus have the opportunity to identify potential candidates by talking to the students at their stands and promoting their brand to attract the best candidates."
All the recruiters are in competition with one another to attract the students to their stands. One thing is certain: the best candidates will return to the most appealing companies and stands!

New system for premium interviews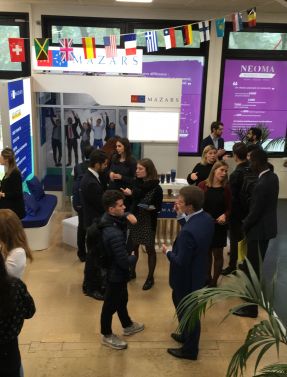 A brand new feature this year: the Talent & Career department, in partnership with SeeKube, set up a Jobdating service. In addition to the traditional stand meetings, this system allowed certain companies to set up interviews with pre-selected candidates in advance. Jobdating therefore makes it possible to add an extra dimension to the Forum by offering candidates premium interviews with an HR representative and a further opportunity to obtain a much sought-after position.

Well-prepared candidates thanks to the implication of the T&C Department
The Talent & Career teams have increased their efforts in a bid to make the event a real success. Coaching sessions were held on both the Reims and Rouen campuses to help students prepare for their future meetings with the recruiters. Over 140 students managed to meet up with a coach for personal advice on their CV or to try out their recruitment pitch.

Reducing Forum's carbon footprint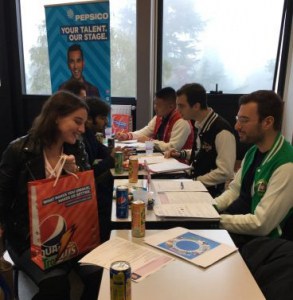 As well as inviting the companies to take part, the School and the various partners wanted the event to be as socially responsible as possible, particularly in terms of logistics. In practical terms, this requires commitment to reduce the Forum's carbon footprint, limiting waste and raising public awareness about the ecological transition.

An approach that resulted in the award of a level 2 Eco responsible label, which means:
The presence of a Green Team on campus to assess the event's carbon impact by conducting a travel survey
Eco-friendly gifts offered to participants
Eco-cups and water holders offered to recruiters to eliminate plastic water bottles
A free train station- campus shuttle service
Eco-conscience lunch caterers (organic, fresh and local products, vegetarian menu)
A number of companies contributed to the CSR initiative by making a donation to the WWF for each CV collected on the day of the forum and by offering eco-friendly gifts. The event was hugely successful thanks to the involvement and commitment of all those involved!