GEMBA students attend a seminar New York City
As part of their International Learning Experience, students from the 25th Global Executive MBA travelled to Baruch College in New York, one of the most prestigious public universities in the United States.

Stéphane Dubreuille, PhD, CFA, professor of Finance and Director of Executive Education at NEOMA BS, and Joseph Onochie, PhD, professor of Finance at Baruch College, organised this American trip together. It allowed the 25th Global EMBA class and their academic director, Charles Waldman, to benefit from a seminar on Fintech spanning several days. The objective was to understand the tomorrow's finance in a digital context.
Some of the themes addressed were:

Blockchain and crypto-assets: how can this technology disrupt your career?
Recent Fintech developments and their impact on the financial services
The token economy
Alternative lending, crowd-funding and P2P technology
Valuation of intangibles
Machine learning and applications in business and finance
This trip also provided the school delegation the opportunity to visit three companies:

R3, a company involved in Distributed Ledger Technology,
the centre of excellence associated with JP Morgan's Blockchain and Luka,
a company specialising in accounting and fund management for crypto companies

In order to make a presentation of the theme and above all to describe the sector's particularities in detail, a number of professionals from the Fintech industry as well as several expert professors of Finance from Baruch College took turns to speak. Amongst them: Charles Hwang, Michael Mazier, Jamiel Sheikh, Michele Costello, Christakis Droussiotis, Nanda Kumar. Quing Hu, Associate Dean of Baruch College, was also present to meet the students.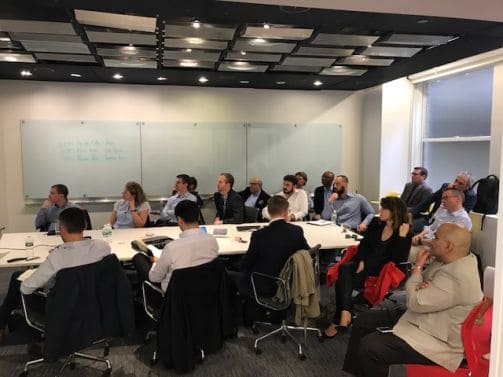 At the end of the programme and in order to complete the seminar, groups of students took turns to present the major data and intellectual property valuation issues in a world where intangible assets dominate. The overall experience was much appreciated by all the students involved. "Throughout the week, we were able to enjoy really excellent organisation, topics and exciting visits. It was also a great opportunity to meet some very nice people during a perfectly structured schedule. Flawless to say the least!" enthuses Stéphane Leroux, class delegate.