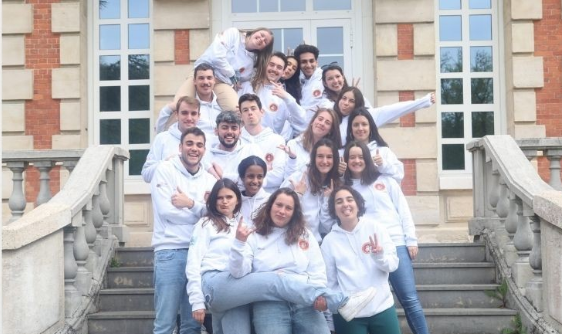 Guidance: Envie d'Sup discovers new resources to help secondary school students
January was an intensive month for Envie d'Sup, the student association that oversees the Cordées de la Réussite programme on the Rouen Campus. The NEOMA students took a training module with the Regional Agency of Orientation and Trades of Normandy to offer better support to the secondary school and sixth-form college students in choosing their studies. They tried out board games, escape games and card games, which are helpful tools for working with very young students.
'This module showed me that it is possible to provide entertaining guidance to students who are putting together their professional plans and to make them learn about professions that they didn't know', said Honorine, head of the Year 12 unit.
"After this module, I had a better understanding of the biases that are still found in guidance given to different generations. I also learned new methods for offering better guidance,' said Eliott, head of the Year 13 unit.
The students also organised many, different workshops of their own: internship searches, business etiquette sessions, improv theatre; the art of cinema with the FBEye and Pulp Vision student societies; gender equality and stereotypes, a workshop led by the HeForShe Rouen student society; an evening event about consent after a performance by the acting troupe Les Tubercules.
The aim of Cordées de la Réussite is to combat self-censorship and encourage the desire to pursue further education among younger students. This programme is supported by two student associations from our business school, Prépa' Rémois in Reims and Envie D'Sup in Rouen. Each year these associations organise workshops, outings and meetings in secondary schools and sixth-form colleges. In the past fifteen years, 5,000 tutored students have received assistance from NEOMA students.