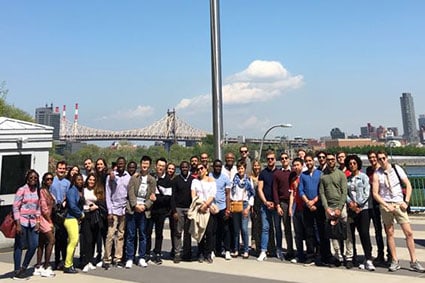 Immersion in the heart of the financial world for the AM in International Financial Analysis
Students in the Advanced Master in International Financial Analysis (AM IFA) of NEOMA Business School were in New York this past May to immerse themselves in American financial techniques.

Each year, the AM IFA students spend one week in the heart of world finance so they can meet portfolio managers and hedge fund presidents and take a tour of world financial institutions.
This year, the focus was on alternative investments, particularly real estate.
The students also had the opportunity to reflect on and discuss "Finance, 10 years after the fall of Lehman Brothers" with Sébastien Lafosse, Head of Retail & Private Banking Group, Americas, Crédit Agricole CIB, and Catherine Karyotis, Director of NEOMA BS Advanced Master in International Financial Analysis.
This round table was followed by an evening event organised by the Alumni Relations Department of NEOMA BS, represented by the director, Pascal Choquet. It offered a chance for students and alumni to meet each other and talk!
>learn more about the Advanced Master in International Financial Analysis of NEOMA Business School