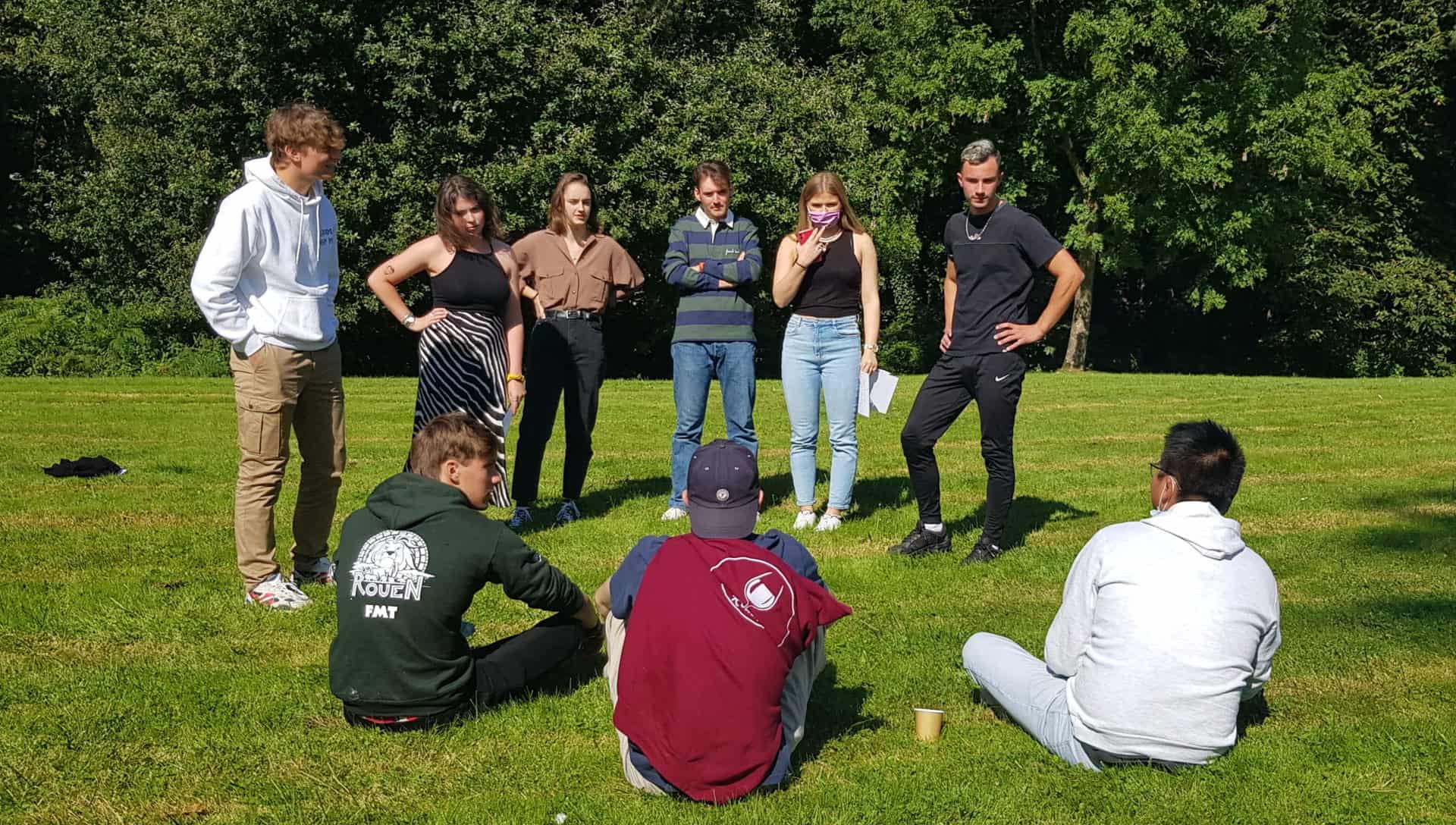 Induction course: students try out Peer Learning
The principle of Peer Learning is that knowledge is passed on between the students. Master in Management students tried it out during the induction course (Starting Days). What did they think of it?
Peer learning is at the forefront of teaching at NEOMA. Right from the induction course (Starting Days), the Business School gives the students the chance to share their knowledge. This year, it was a public-speaking workshop that gave them the opportunity to exchange ideas.
Working in teams, first-year students of the Master in Management (PGE) had to work together on a joint project and pitch it to a judging panel made up of second-years. In Rouen, this session was held on the campus lawn, in a relaxed fashion.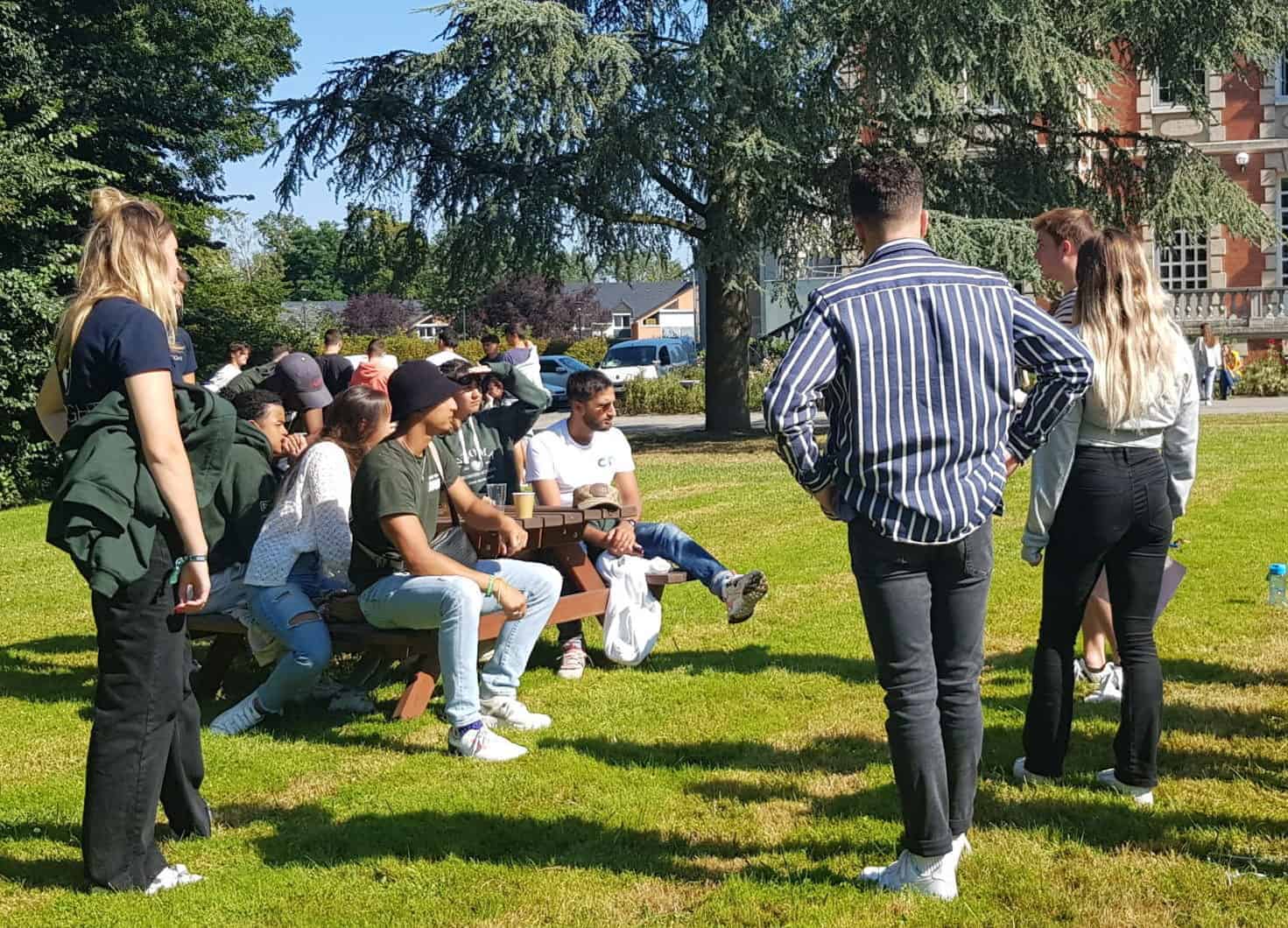 After listening to several teams, Jean-Luc Zhu, sitting on the grass, had already noted that there was "a pleasing diversity of projects". "They are raising questions of meritocracy and access to degree foundation courses, and about the welcome received by foreign students," the second-year student concluded.
It is not easy, however, to judge the pitch of your peers. But "after we'd seen about a dozen groups, it got simpler. We could compare one with another," said William Mc Cord. "Last year, we had advice from coaches. They explained to us how to reach our audience, how to capture their attention, how to get them to react." "We learned to interact with the audience, to call out to people, how giving figures could be powerful, and that's what we tried to pass on to them", continued the third member of the panel, Eloi Amice.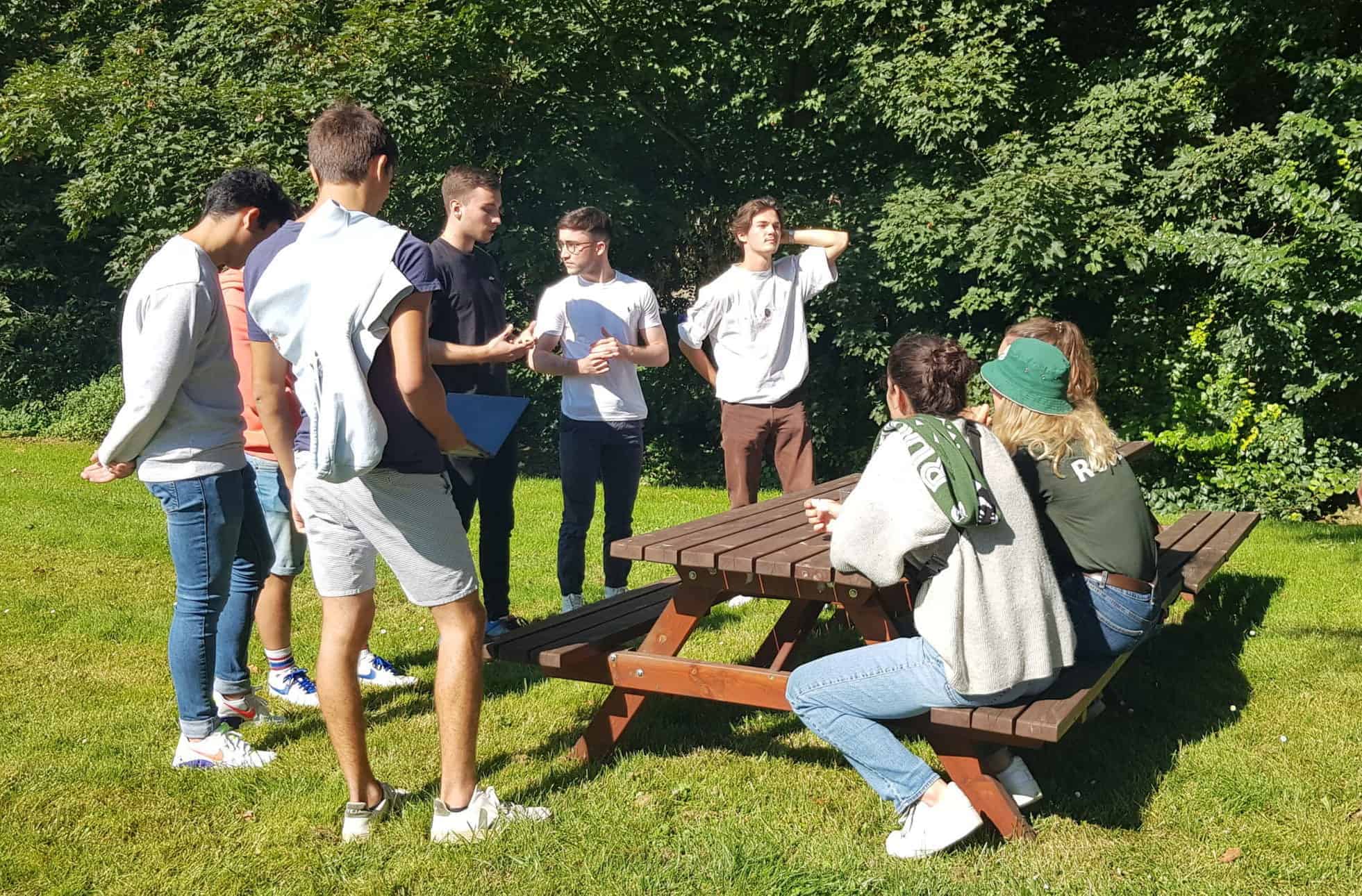 It might have been a bit complicated, but the second-year students greatly enjoyed the exercise. "I really like being on the panel and giving feedback to the first-year students," continued William Mc Cord. "Last year I would have liked to get to know the second-years, and to find out what they had learned and what they thought. It's more interesting to be 'judged' by young people, because they were in the same position a year ago, we are closer to them, and having someone 20-years old listening to you is not like someone who's 35. We have the same reference points. We feel closer, it's quite enjoyable."
These feelings are shared by Ugo Guillerme, in his first year at the School, who was delighted to listen to advice from his peers. "They are both close to our experience, which helps with empathy, and they also have considerable legitimacy, having lived through some of the student experience. That gives their remarks coherence. And they also find it easier to speak out."
"What is really surprising about this peer learning approach, is that at first you don't realise you have any knowledge to pass on to other students. Then, as we start sharing our experience, we start to realise that issues of management, and managing projects, are the same for all of us. We learn very specific things thanks to the feedback from others. The way we all share everything is really worthwhile." François, PGE student, Student Committee (BDE).
What is peer learning?
Peer learning is a method of teaching where the students take the lead. Starting from the principle that the student has knowledge, it involves setting up ways to share, exchange and formalise this knowledge. The teacher has a modified role, supporting this transfer by helping students become aware of their own knowledge and providing good ways for it to be passed on. This teaching method focusses on the student and favours a much greater level of engagement.
For more information 
Peer-to-peer or peer-learning: what is it? – NEOMA (neoma-bs.com)