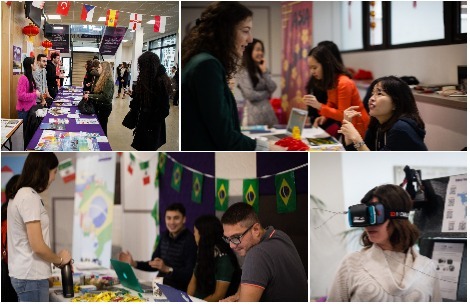 International Day. Two days of interactions to find your exchange university abroad
On January 11 and 18, 2018, the second edition of International Day was held in Rouen and then in Reims. It was an opportunity for students to learn more about our partner universities located around the world.

The two-day programme of discussions and meetings on both campuses included: conferences, practical advice and consulting and meetings with students returning from their stays abroad. Students could also use photo kiosks and virtual reality glasses to go on innovative campus visits.
"International Day is the best way to help students choose their destination," said Beatriz Ranz from the department of Student Affairs, who organised the event in Rouen. "Obviously the department can offer brochures to students and show them the academic component of the programmes, but only the students who have spent time abroad can talk about their experience, what it was like living in the country where they stayed and attending the university there."
1,400 students invited
This year around 900 students were invited to participate in the event in Rouen and 500 others in Reims. Whether the students are in the Grande Ecole programme, in the 1st year of the Global BBA or the 3rd and 5th years of the TEMA programme, they'll all have the opportunity to go abroad : in September 2018 for some of them, and in January 2019 for the others.
The objective: make sure that the young students go in small groups so they will experience complete immersion. It's by being surrounded by students from the hosting country and exposed to its particular pedagogic methods that our students will make the most out of their international experience. It is this major commitment to immersion that sets NEOMA BS apart from other business schools.
More than 300 partners around the world
With more than 300 partner universities recognised for their academic excellence and located on every continent, NEOMA BS offers its students a unique experience that is highly valued by companies.
Learn more about our partner universities
During International Day in January 2018, students were presented with six new partner universities:
two in the Netherlands: Nyenrode Business Universiteit (Breukelen) and TIAS (Utrecht) ;
two in the U.S.A.: University of South Florida, Muma College of Business (Tampa) and Worcester Polytechnic Institute, School of Business (Worcester) ;
the Franco-Russian University of Moscow in Russia ;
and the ESA Business School, "Ecole Supérieure des Affaires de Beyrouth", in Beirut, Lebanon.
"North America, Australia, China and Ireland are particularly popular with our students," Beatriz Ranz added. "But NEOMA BS students have spread successfully all over the entire globe, with around 22% of the 64,000 alumni from the school now living abroad."