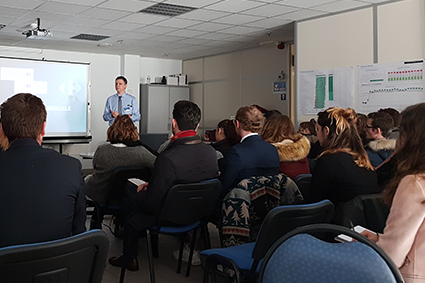 International pedagogic seminar for BRM-ECAL students
During their time in the programme, students of the Bachelor in Retail Management-ECAL have the opportunity to take trips around France and Europe to meet innovative project designers who show them the key phases of their commercial strategy and the innovation features in their network of stores.

In November 2017, the BRM-ECAL 3rd year students visited 7 stores and a commercial centre in Europe.
With local managers offering explanations during the tours, they could learn on site about the different forms of innovation in stores that ranged in size and specialisation.
The tour started in Villeneuve d'Ascq at Better Primeur, which skilfully blends dining with retail sales. Then, students visited the hypermarkets E.Leclerc in Seclin, Auchan in Englos, Carrefour in Mons le Grand Près, Belgium, an organic supermarket, Temma in Dusseldort and the commercial centre La Belle Etoile in Luxembourg.
The visit to MarktHalle–Real in Krefeld was particularly noteworthy because the store is the prototype for a new hypermarket opened less than one year ago by the German leader.
The non-food sector was not neglected. The students visited the IKEA store in Arlon, Belgium, where they studied how a major global company can adapt to its market. They also visited Saturn in Dusseldorf, one of the biggest department stores in Europe specialising in the electronics and digital products sector.

>read more about NEOMA BS Bachelor in Retail Management-ECAL