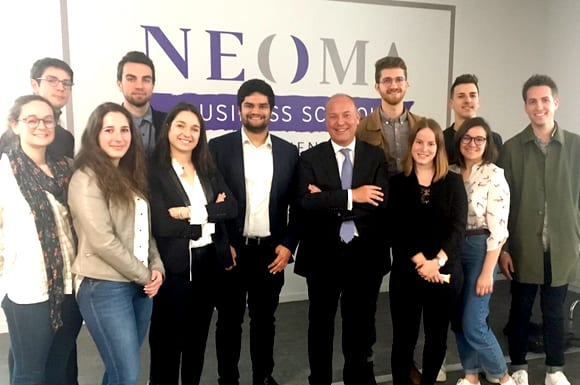 Jean-Baptiste SANTOUL, CEO of Ferrero France, visits sponsored class!
On 10 April, Jean-Baptiste SANTOUL, CEO of Ferrero France, was on the Reims campus of NEOMA Business School. Mr Santoul, who graduated from the Master in Management programme in 1992 and now has over fifteen years' experience in top management all over the world, was doing us the honour of being the patron of the 2021 promotion.

Last September, he met the students on the Rouen campus in person as they arrived to begin the academic year. This time he came to meet the Reims students and spent a large part of his day with them. It is obvious that Jean-Baptiste Santoul takes his role as patron very seriously! "I am so proud! But it's also a big responsibility, and it isn't easy to free up the time you need. Meetings like this one are like a breath of fresh air, a real pleasure!" he declared.
Extracts from the day...
When you were a student, did you ever imagine you'd be a CEO at the age of 32?
When I was a student, the world was my oyster, anything was possible. I wanted to dive right in, to take risks! And I have been lucky to be a CEO at 32. But luck is also about tenacity; you have to know what you want and go after it. And then you'll see, fortune will smile at you! You are responsible for your own careers and the way you way you steer your own ship.
What is your recipe for managing big companies?
Whatever its size, large or small, managing a company is never easy. Far from it! And it's important to understand that, in order to lead a team towards a common goal, to fight and win together!
My first responsibility is to develop and protect the assets in my company. The main assets are the brands and the teams. To this end, you have to be a corporate citizen and have a spotless reputation. That goes without saying.
Following the 'Nutella bashing' problems, Ferrero has been reinforcing its communication concerning its responsible approach. Is this important to you?
We really want to communicate what we really are.
Because of its success, Nutella is an iconic brand. And the stronger you are, the more suspicions you arouse. Sometimes you hear people say "there are secret additives in the ingredients". No, there aren't! Nutella is an extremely simple product - made of seven ingredients you can find in your own kitchen - and it's good wherever you go.
As for palm oil, there is palm oil and SUSTAINABLE palm oil. The latter is what we use because it comes from a sustainable source. We can trace it, it respects the ecosystems and it has no impact on deforestation!
And finally, food in France has never been as safe and healthy as it is today. It's all a matter of choice and balance. Personally, I hope we're not going to be forbidden from enjoying some treats and that we'll always be able to make our own choices about what we eat!

After the interview with the student association NEORATEUR, the students had the opportunity to chat informally and enjoy some… chocolates!

See also: The Master's in Management Programme sponsored by Jean-Baptiste SANTOUL, CEO Ferrero

>learn more about NEOMA Business School Master in Management programme