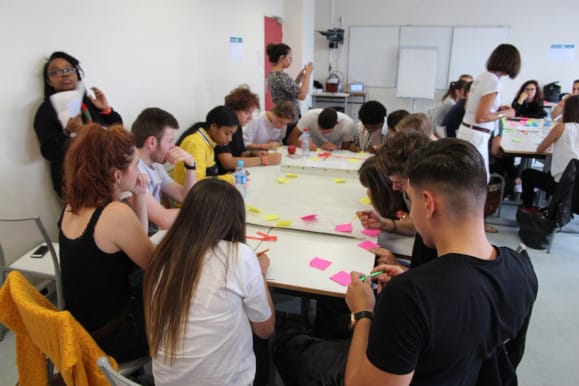 "Just like being there" Immersion Experience the PGE Master's in Management Starting Days II
To allow you to experience the start of the PGE programme "as if you were there", NEOMA BS invites you to follow a three-part interview on the PGE Starting Days as seen by Marie-Astrid.



INTERVIEW 2
Immersion experience in the Master in Management's Starting Days : Third day
Thursday midday, after 2 days of seminar, Marie-Astrid looks back at Starting Days.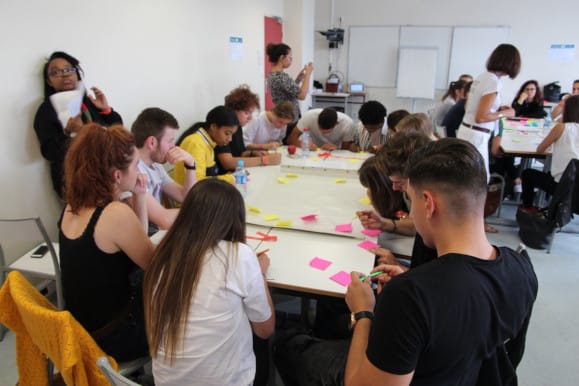 NEOMA: How are things going?
Marie-Astrid: Great! We're getting to know our classmates. I'm discovering things I never saw at ESC prep school. Like the marketing lecture in English.... A completely new subject for me!

NEOMA: Which 'World' are you in and what is your 'Challenge'?
M-A: I chose to work in the World of "Inclusion." Our team is looking at the issue of self-exclusion among students. The idea is to help young people from low-income backgrounds to consider all types of education. My parents attended higher education, so personally, I didn't have any difficulty in thinking ahead. On the other hand, it may be more complicated for other young people whose parents may not have had this opportunity.

NEOMA: What has struck you the most so far?
M-A: I'd say the marketing conference! The American lecturer was ultra-dynamic! It almost made me want to join the English track. Even if my level of English isn't very good, I understood everything. We felt that he wanted to get the entire room behind him and that everyone was interested. He made you want to listen.

NEOMA: And how are things going with your team?
M-A: The team is divided into 3 groups. One is in charge of making a poster, a second - mine - is working on the project pitch and the third group is dealing with the financial side. The arrangement is pretty good, and we communicate well.

NEOMA: Can you say a few words about your coach?
M-A: She's natural and friendly! There are no barriers and a lot of openness with her. If we come up with an idea that's crazy, she just tells us, and no one is offended!

NEOMA: Can you give me your overall impression of these first 3 days?
M-A: 'Starting days' is really intense. This integration seminar is more like a project seminar! It's really demanding, but we're really well supervised.