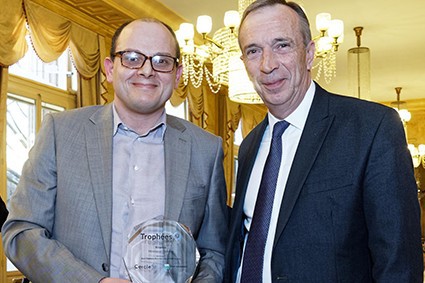 K2 Award for a NEOMA BS professor
Messaoud Chibane, professor in the Finance department at NEOMA Business School, received the 2018 K2 Award for his research work in Asset Pricing.

Cercle K2 is a multi-disciplinary organisation whose purpose is to put in contact people from academia and different sectors of the economy, coming from a range of fields from cognitive science to finance.
"The purpose of the K2 Awards is to highlight and support researchers who, through their imagination, creativity, and work ethic, have discovered a research field or an application that could contribute to addressing the many challenges facing our societies." (https://cercle-k2.fr)
The work selected is assessed according to its chance of being published in top-tier academic journals.
The awards ceremony was held on April 5, 2018, at the Cercle National des Armées in Paris.
Photo: from left to right: Messaoud Chibane, NEOMA BS professor and winner of the 2018 K2 Finance Award, and Alain Papiasse, Deputy General Director & Representative of the Executive Board for the North America region, BNP Paribas, Member of the jury for the K2 Awards in the Finance Category.