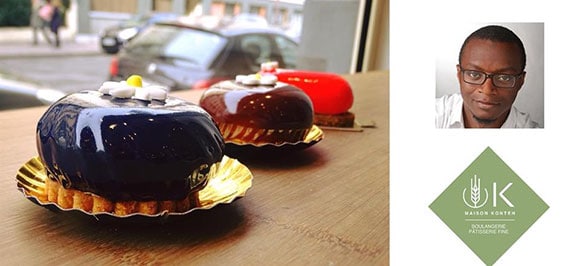 LAMIN KONTEH – A CHILDHOOD DREAM THAT HAS BECOME A REALITY TODAY
Maison Konteh is the story of a bakery born in Gambia and with a rich heritage. It is also, and above all, the story of Lamin KONTEH, an EMBA graduate and a start-up financial manager, who took his career in a completely different direction in 2013.
Lamin Konteh was born in Africa, in Gambia, to be precise. In his village of Konteh-Kunda, he knew from an early age that he would become a baker. This would not only be a tribute to his ancestors (his great-grandfather was a baker) but would also allow him to take up a noble profession and enable him to provide for his family.
However, once in France and after a brilliant academic career, Lamin abandoned this path for a career in accountancy. "After gaining a diploma in accounting and a degree in management sciences at Paris Dauphine, I quickly climbed through the ranks," he explains. "Even making it to assistant CFO with a big company. A position that wasn't fulfilling. Because I am constantly striving for more, I decided to take up a new challenge and enrol on an executive training course. The NEOMA Business School EMBA was perfectly in line with my requirements. My objective was, in the short term, to become Managing Director of a company. The course provided by NEOMA BS allowed me to aspire to such an ambition."
The expression of a quest for meaning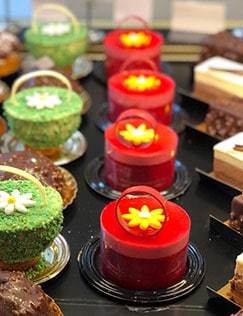 Whilst following this training course on the Paris Campus in 2013, Lamin had a moment of inspiration. He realised that the career he was pursuing did not correspond to his true aspirations.
"I talked about my doubts with my colleagues, my teachers. And just like a family, they decided to accompany me on this journey. That's when I decided to concentrate on my true desires, the desires I'd had as a boy, that were still inside me: to open my own bakery, just like I'd always dreamed of doing. This meant I could satisfy the need I had to create my own business and also to work in a field that has always fascinated me: gastronomy."
Lamin's battle then began. He left his position and began to search for internships with the very best professionals, such as the award-winning baker Thierry Meunier. He managed to follow a training course at the Baking and Pastry School in Paris whilst following his EMBA. "As soon as I had graduated from NEOMA Business School, I immediately planned to take a vocational training course to validate my professional experience. I then followed a long-term pastry making course. I was lucky enough to work with such professionals as the pastry chef Jean-Michel Perruchon, a "best worker in France'" award-winner. And through daily self-sacrifice and struggle, I finally managed to find the perfect time and place to start my bakery."
An activity destined for growth
Launched in January 2016, Maison KONTEH, "the literal translation of the name of my village in Gambia, KONTEH-KUNDA," offers products adapted to a clientele from the 15th arrondissement in Paris. An advocate of quality products, he favours organic and Label Rouge products for creations that as equally aesthetic as mouth-watering. Today, his fine bakery and pastry shop is constantly busy. "Today, I am so satisfied. Finally, the EMBA triggered me into action. It is what gave me self-assurance, confidence in my qualities, leadership and communication skills, and above all, the guarantee of personal development. This is also what spurs me to look further ahead today. My objective is to make Maison Kanteh a national or even international brand, and perhaps to expand into Senegal or Gambia in the next 3 or 4 years. Without forgetting the ethical dimension that I have learned."
Visit Maison Konteh at 141 rue de la Croix Nivert 75015 Paris.