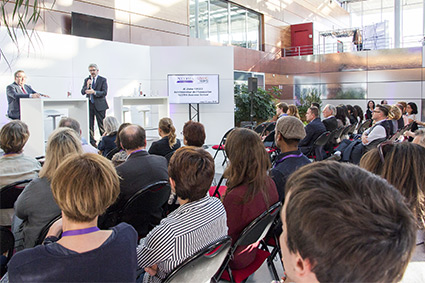 Landing in Reims: networking for international executives
On 18 May, the third edition of "Landing in Reims" was held on the NEOMA Business School Reims campus. Once again this year, the event, open to all those who would like to help to develop a genuine network of expatriates working in Reims, attracted more than 120 guests.

Launched in 2015 by NEOMA Business School Reims Campus jointly with the Greater Reims urban community, this henceforth annual occasion is an original, participative way to make the Reims area more attractive to international executives and encourage them to settle here lastingly. "Landing in Reims" creates the necessary conditions for setting up a durable network for international executives in the Reims area.

The welcoming speeches by Pascal CHOQUET, Director of NEOMA BS Reims campus, and Didier FAGES, a member of the NEOMA BS Association board, were followed by a panel discussion on the topic of "Settling and living in Reims" led by internationals working in Reims.

The evening continued with a cocktail reception to encourage people to meet and get to know each other, with stands presenting various local organisations who assist with housing, children's schooling, job finding for spouses, social and cultural life, etc.

We would like to thank the following organisations for their participation:
• Associations responsible for welcoming new arrivals in Reims: Smile in Reims; AVF Reims (Acccueil des Villes Françaises);
• Housing: LGA Relocation; Plurial NOVILIA Action logement; Welcome2France;
• Schooling: Ecole Internationale Henri Farman; AAEIR: Association des Amis de l'Enseignement International de Reims;
• Culture: Greater Reims Tourist Office; Les Vitrines de Reims;
• Professional life: APEC, executive recruitment and job offers; CJD: Centre for Young Company Heads;
• Intercultural organisations: NEOMA Confucius Institute for Business; Franco-Russian Association.

With "Landing in Reims," NEOMA BS and Greater Reims offer international executives in the area the perfect opportunity to meet and get to know people, while promoting multicultural development, together with local higher education institutions and companies, and the region in general.