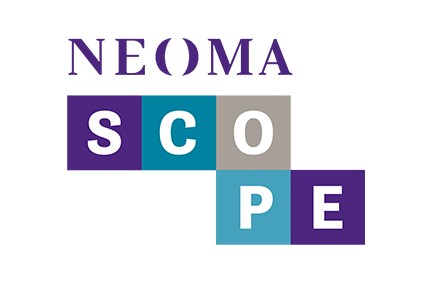 Launch of a Global Executive MBA, the heart of NEOMAscope
According to a report by Dell and the "Institute for the Future", 85% of jobs that will exist in 2030 have not been invented yet, highlighting the importance of professional training for the economy. Employees need to be trained throughout their career to develop their skills and capacity for innovation. As needs change, so NEOMA BS has reviewed its Executive Education programme and is now ready to unveil NEOMAscope. Key to this initiative: a new flexible offer allowing trainees to construct a training programme in accordance with their professional ambitions and personal situation throughout their career.
Taught entirely in English, the NEOMA BS Global Executive MBA features three formats: Intensive (15 months), Accelerated (10 months) or Express (7 months*). This new multidisciplinary programme has been designed with three ambitions in mind: changing outlooks, daring innovation and creating value. The course is made up of original and unique experiences, including:

Immersive virtual reality case studies and an interactive teaching platform.
4 International Learning Experiences (ILE) based on specific themes over 4 continents (Europe, North America, Asia, Africa) *
A customised conclusion to the course, a choice of 7 specialised study blocks from NEOMA BS Advanced Master and MSc programmes, either on-campus or online.
*without international experience
Shorter training formats aiming towards the Global Executive MBA
NEOMAscope also offers certified training courses or courses leading to qualification, in 4-day to 15-month formats, including:
• Certificates - 4 days
• Management tracks in three areas: Finance, Entrepreneurship & Innovation and Responsible Leadership – 12 flexible days
• International Learning Experiences (ILE) covering four continents – one-week visit
These courses are an integral part of the Global Executive MBA. By following these courses, employees validate Global Executive MBA modules, allowing them to complete this prestigious programme over several years if they wish.
>Find out more about NEOMAscope, Executive Education, NEOMA Business School