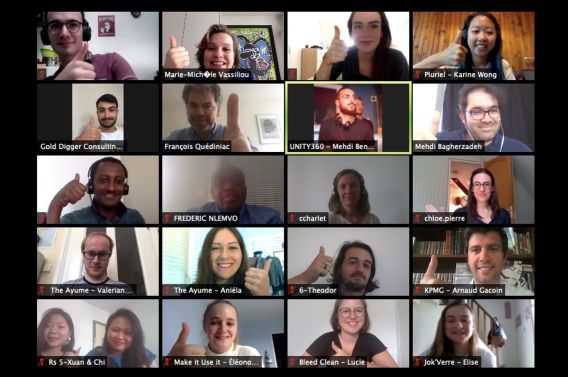 Launching a start-up in four months: "Let's Do It" with the Master in Management Entrepreneurship specialisation
The 60 Master in Management students following the Entrepreneurship programme were given just 4 months to develop their start-up project. With coaching sessions and numerous workshops offered as support, the projects were pitched to a jury of professionals that included KPMG representatives. We take a closer look at the unique "Let's Do It" Start-up Challenge.

The students started off by working on solutions to specific problems they felt were personally important. Groups of 3-4 students were then formed to work on a selection of the most convincing individual projects headed by the project leader. The teams were given the objective of developing and structuring a start-up around their idea before making a final pitch. This presentation was to be assessed by a jury of experts that included KPMG employees, alumni, professors and start-uppers.

Acquiring a global vision through a customised programme
A series of specialised workshops were held to provide students with support and assistance in their approach and reflection: 'Open Innovation' with Jean-Louis Lievin, IdexLab, 'Social networks' with Yann Marchand, influencer, Financial aspects and additional advice thanks to the practical experience of a number of alumni entrepreneurs.
In addition to these workshops, coaching sessions on how to come up with ideas, public speaking, storytelling techniques, developing a start-up and pitching a project were also made available. "A totally customised, comprehensive and varied programme," says Marie-Michèle Vassiliou, Head of the specialisation.
The students' were also invited to attend the ChangeNOW Summit held at the Grand Palais in Paris in late January. The event is seen as an important meeting place for people with a desire to change the world and provides students with a chance to develop their entrepreneurial vision.

A digital conclusion
Under normal circumstances, the entrepreneurial option concludes with students making an oral presentation of their project in Paris at the KPMG Head Offices. However, due to the current health crisis, holding such an event was obviously impossible. Marie-Michèle Vassiliou, explains, "It was just not possible for me to simply cancel these presentations. So I decided to adapt and use ZOOM for the pitches. Everything went smoothly and without any problem. I would like to thank KPMG once again for accepting to take part in this presentation process in such an original format."



François Quédiniac, Partner, Head of the Chemical Sector at KPMG France, NEOMA BS Campus Partner and graduate of the school, is keen to highlight the quality of the students' work: "They have shown themselves to be as involved as they are professional. They really defended their projects with talent. This experience enabled them to go beyond mere 'school work' and display a truly methodological and entrepreneurial approach. We congratulate them all for their work and the quality of their presentations."

The Campus Partner adds: "We were unable to decide between two of the projects and we are proud to announce two joint winners, who will each receive €1,000." And KPMG will award an additional €1,500 to the team that registers their company first and reaches €1,000 worth of sales before December 31,.



-------------------------------------------------------------------
Read on and discover the accounts of AYUME , one of the winning teams
The team is made up of three members: Valérian, who came up with the initial idea, together with Aniela and Sophie. Valérian's idea comes from his own experience and adapted for people with disability. The young student has an annoying tendency to misplace his things. For those of us whose glasses and car keys have a life of their own and seem to simply disappear, a whole host of electronic and connected gadgets exist to make them easy to find. But what about when there's no connection or you don't have a smartphone or if you're disabled? This is the problem AYUME wants to address.



What have you been working on throughout the year and what has really stood out for you?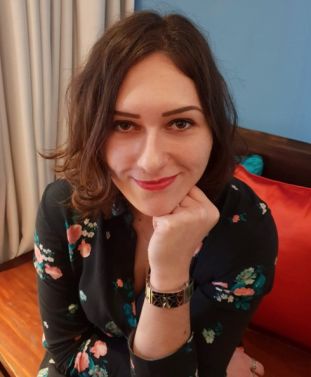 Aniela : As well as market research, prospecting, courses on building a business plan, approaches to digital marketing and open innovation studies, we have developed and tweaked our project until making the pitch to KPMG. The 4 months just flew by! What really stood out for me was the transition of an individual idea into a collective project. I was obliged to change my perspective, become part of the group and learn to cooperate with others.

Sophie : What I remember most is the starting point we set out from and then the stage we finally reached. At the beginning, we were not fully convinced and really had to try and understand Valerian's idea and then jump on board to define the solution and the objective. We worked really hard, we listened to each other and, in the end, as a team, we managed to come up with something we all liked, an idea that suited us all and in which we all believed. I'm impressed by how much we achieved and I think we can be really proud of ourselves!

Valerian : The specialisation helped us a lot and was really rewarding. The discussions with the team and Marie-Michèle, together with the support provided by the alumni really helped me acquire a global image of the project. And with Sophie's and Aniela's contributions, the initial idea developed significantly.

What have you learned this year ?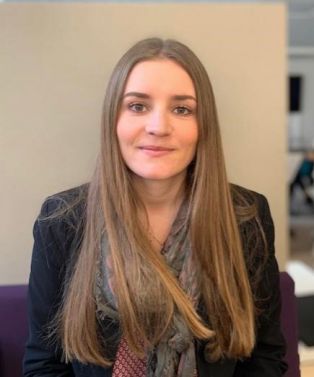 Sophie : This is the first time in my life that I have had the opportunity to start something from scratch. It's not something I've exploited before at NEOMA. Even on internship, we take over a situation that we are asked to evolve. During these 4 months, we moved from an academic to a professional context and this experience was really rewarding.

Valérian : I was really struck by just how important a network is. I hadn't realised the creative power that results from meeting somebody else: the simple fact of talking to others allows you to develop ideas that you would never have thought of. Being surrounded by people who believe in you and give you their support is a highly valuable advantage and incredibly helpful in driving you forward.

Aniela : The entrepreneurial specialisation has been a real wake-up call for me. It may be an over-simplified view, but I never thought you could "learn" to be innovative. Medhi Bagherzadeh's course on open innovation was a real revelation!

How do you envisage the future of the project ?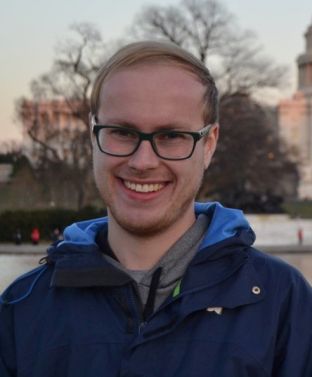 Valerian : I just wanted to learn about entrepreneurship and gain some experience. Now that I have the theoretical knowledge, I'm really looking forward to going into business after my studies.

Aniela : Creating AYUME was achieved with hard work and focus. Winning the pitch competition and being congratulated by KPMG made us aware of just how far we'd come and suddenly a wide range of possibilities has opened up. I've got what it takes to be an entrepreneur, I've always had the idea of creating a company one day. I wanted to hone this ambition during the entrepreneurial specialisation. I think I can safely say that I have succeeded!

Sophie : Ending the course with an award has made me really wonder what to do next. AYUME has meant that we have gone way beyond the school project stage, and we can now think about the opportunities further along the road. It's a real opportunity and one to be seized. I was planning to take over the family business, but the specialisation in entrepreneurship has given me other ideas: whether with it's with AYUME or another project, I want to embark on an entrepreneurial adventure. The specialisation really awakens this desire!