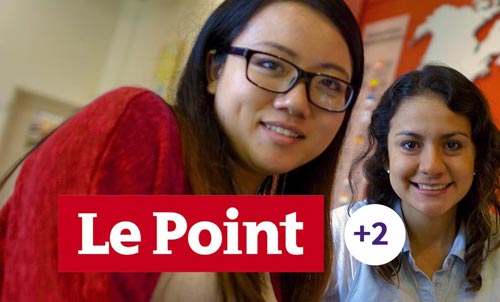 Le Point 2018 Business Schools Ranking: NEOMA BS moves up two places
The Master in Management programme moves up two places to 11th in the overall ranking (from 13th last year), with a final mark of 65/100, which puts us ninth in terms of scores.

The Master in Management programme improved its performance in:


Professionalization: + 18 places
Entrepreneurship : + 16 places
Internationalisation and Teaching: + 10 places

The MiM has also consolidated its result in terms of first salaries, maintaining its position in the second tranche, despite the fact that the thresholds have been raised.
In the magazine, several quotations and photos promote our Immersive Virtual Reality teaching tool in an article devoted to NEOMA Business School.

In the ranking for four-year Bachelor programme CESEM appears in 6th place (vs. 4th last year) and the Global BBA in 7th place (vs. 6th last year). CESEM has strengthened its position in internationalisation, by placing 3rd. Meanwhile the Global BBA, performed particularly well in teaching and entrepreneurship (4th position).