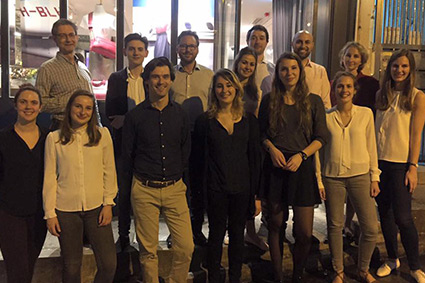 Meeting the NEOMA BS community in Asia
Long-established alumni, recent graduates looking for opportunities, interns on assignment, exchange students… So many members of the NEOMA BS community work abroad! And representatives from the School regularly travel to meet them.

In March, Clément Bechetoille, our careers consultant for Asia at the NEOMA BS Talent & Career Development Unit (TCDU) visited Hong Kong and then Ho Chi Minh City.
"It is important for us to get into the field to assess opportunities, problems (visas, etc.), and market potential in the region to facilitate access for our students. It also provides us with an opportunity to promote NEOMA BS to companies, institutions, and partner universities, and thus to enhance the School's reputation" says Clément Bechetoille.
Clément met members of the NEOMA BS community who were attracted by the dynamism of Hong Kong and Ho Chi Minh City, the economic capital of Vietnam: Antoine, a graduate who manages a medical equipment sourcing office; Lisa, a recent graduate carrying out international voluntary work, who is developing a canned wine project; and Théo, a student intern at The Hive (+).
He also met Mme Doris CHENG of the Office for Careers & Placement Services [CAPS] at Hong Kong Polytechnic University, a major NEOMA Business School partner university.
"Hong Kong Polytechnic University CAPS is the equivalent of our TCDU. So we discussed our activities and best practices, and planned future joint projects to promote our students' international employability" explains Clément Bechetoille.