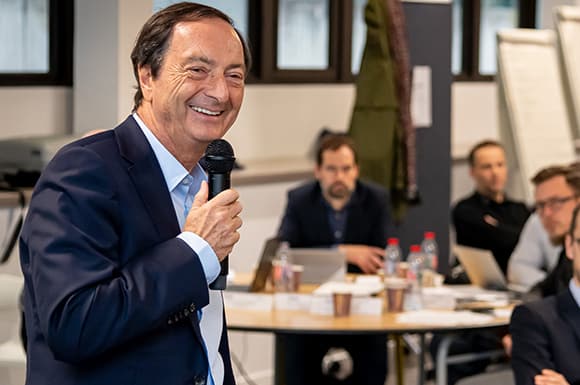 Michel-Édouard Leclerc's surprise visit to the SMEs enrolled on the Grand-Est Region's SME Accelerator Programme
On January 15, 2020, the 23 SMEs enrolled on the Grand-Est Region's SME Accelerator Programme had the opportunity to discuss Pricing and Purchasing issues with Michel-Édouard Leclerc during their training session on NEOMA Reims Campus.

The "SME Accelerator" (Accélérateur PME) programmewas launched by BPIfrance and the Grand Est Region. It targets local businesses with growth potential from all sectors. It was created with the aim of providing SMEs with a boost to facilitate their transition to becoming Mid-cap companies through training in 3 main areas: consultancy and 360° diagnosis, networking and classroom teaching in groups.
NEOMA Executive Education has provided the classroom training for the past two years. The surprise and highly appreciated visit of Michel-Édouard Leclerc, President of NEOMA, occurred during a seminar on business development and complex negotiations on Reims campus. The participants were indeed fortunate to have this opportunity to gain inspiration from other business leaders. For Carine Budiscak, Project Manager with the Regional Council: "Impact guaranteed!." Florient Rey, Project Manager with BPIfrance, goes even further, "Who better than Michel-Édouard Leclerc to speak about Prices and Purchasing during a seminar on business development?"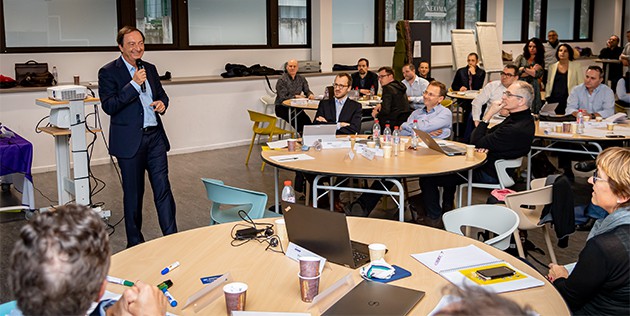 More about the training:
The programme includes eight 2-day seminars over a 24- month period covering topics related to business management and development: leadership, strategy, financing for growth, external growth, supply chain, operational excellence, international, cross-border exports, governance, performance management, business development, complex negotiations, employer branding, CSR, innovation and the challenges facing tomorrow's Mid-caps.
"Our lecturers are highest quality, academic and professional experts, who teach both pro-business seminars and in-depth workshops with an interactive teaching approach.", adds Sonia Boussaguet, Professor of Strategy and Entrepreneurship at NEOMA and Director of Studies for the programme.