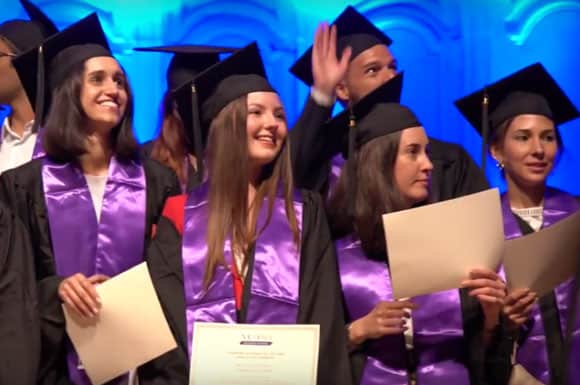 More than 400 new Masters graduates!
The 2018 graduation ceremony for the Advanced Masters and Masters of Science programmes at NEOMA Business School took place on May 29 in the Salle Gaveau venue in Paris.

It is always a moving moment for the directors when they hand the diplomas to the participants who then join the other 57,200 graduates of NEOMA Business School. We depend on them to be active in the NEOMA Alumni Association.
Safir Hanafi was the key speaker at this event. A graduate of the MSc International Project Development 2015, he is the creator of the start-up Lok-Iz, which was incubated in the Start-up Lab at NEOMA BS. Safir shared his enthusiasm and faith in entrepreneurship with the graduates. As a participant in the Global Entrepreneuship Summit in 2016 In the U.S.A., along with figures such as Barack Obama and Mark Zuckerberg, and as a founder of a company that was mentioned in Challenges as one of the 100 Start-ups to watch in the world, Safir told the graduates to never hesitate when it comes to getting involved in an entrepreneurial venture.
> To learn more about the full-time Advanced Masters and the Masters of Science at NEOMA BS
> To learn more about the part-time Advanced Masters and Masters of Science at NEOMA BS